EMS Today 2018 Quick Take: The role of the community at active shooter incidents
An international perspective and a local approach to community education illustrate how community resiliency training can save lives
---

CHARLOTTE, N.C. — Two experts on terrorism and violent attacks shared an international perspective on how Israel and the U.S. approach community resiliency to save lives at EMS Today.
Oren Wacht, Ph.D., EMT-P, Ben Gurion University of the Negev, Israel, shared how community preparedness and training contributes to lives saved in war-torn Israel; and Ofer Lichtmen, NRP, terrorism liaison officer coordinator, Ranch Cucamongo (Ca.) Fire District, explained how his department is working to train the community to be first care responders.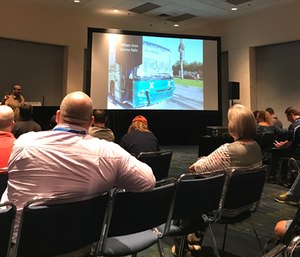 Memorable quotes on active shooter scenarios
"You always have to be very careful when you arrive at some kind of attack. There's a very good chance someone is waiting for you." —Oren Wacht
"If we're not engaging with these three entities [law enforcement, fire and EMS] in our communities, we are falling short." —Ofer Lichtmen
"Terrorism will be solved at a local level. Don't wait for the government to step in." —Ofer Lichtmen
Understand differences in EMS agencies and communities
Wacht  shared operational data on Israel's EMS operations, and how it differs from the U.S.. Israel has a centralized national EMS system, so every provider uses the same ambulances, equipment, training and computer system. Wacht noted this makes it easy to bring additional support in from outside areas when a large event occurs. The downside is any problem that occurs is system wide.
The scope of practice for EMS in Israel includes:
Fresh dried plasma
Advanced airway/Quicktrach/CPAP
Manual defibrillation
IV drugs
Death pronouncement
No CAT Tourniquet (Wacht explained that every police officer and soldier in the country carries – and knows how to use – a tourniquet at all times, so EMS providers do not stock them.)
Israel's EMS is characterized by:
2,000 employees and 13,000 volunteers
A two-tier system (419 BLS, 162 ALS, 500 motorcycles)
450 paramedics, 1,050 EMT-B/I
Advanced first responder system (MDA plus United Hatzalah)
1,540 hours EMS training or 3,400 hours/university degree
Wacht noted one major difference is that in Israel, there is no connection between fire and EMS. Standard calls get one ambulance and two people, he said, noting the difference in U.S. responses, (in a ride along with Charlotte EMS, he counted 11 firefighters and EMS responders at one call).
One challenge this model presents is that paramedics are alone, from their first call. There's no senior paramedic to guide them or to seek advice from.
Both Wacht and Lichtmen advised attendees that another system's model might not work for every community, and to take the pieces that make sense and adapt for their own agency and community.
Key takeaways on active shooter scenarios from an international perspective
Here are some of the other top takeaways from the session:
1. Training citizens is key to surviving terrorist attacks
Wacht detailed the current state of violence and bombing in Israel, and how the country has prepared the citizens, with mandatory bomb shelters in each dwelling, and regular drills and training for professionals and citizens on missile alarm protocols.
And the training works. Wacht showed a photo of a bus that had been hit by a missle, laden with ball bearings that exploded through the first 12 rows of seats and out the front windshield. What could have been a mass casualty incident, instead resulted in zero deaths, because the bus driver followed protocols, and when he heard the alarm over the radio, stopped the bus, opened all the doors and directed all the passengers, including children, to lay down on the ground outside the bus.
2. If you see something, do something
Saying to your buddy, "that looks weird," isn't going to help, Lichtmen noted. Citizens need to be taught to take the next step, alerting the authorities, to make an impact. He showed a picture of one of the backpacks from the Boston Marathon Bombing, and pointed out how it looked wrong that something was in front of the gates holding spectators back, and noted that the Times Square bombing was much less deadly than intended because one of the local vendors saw something and called it in, as he had been instructed to do by local law enforcement.  
Lichtmen compared suspicious activity to the iconic image of a windowless van with "free candy" scribed across the side. Everyone associates that image with chid molesters, he noted. Education and awareness is needed to elicit a similar emotional response in community members when they see a suspicious backpack, or a person wearing a coat in warm weather and behaving erratically.
3. Keep community resiliency training simple
Lichtmen's program uses simple acronyms and techniques to train teachers and community members in monthly classes. They train attendees in RACE:
React
Activate
Care (control bleeding, open airways, monitor respiration and limit exposure)
Evacuate
Attendees are instructed in how to apply a tourniquet in a crawl, walk, run format. First they practice at a slow pace, until they become more comfortable with the process, and eventually are put into a stress induced environment, where the class runs into a room, and races to find their partner and apply a tourniquet amidst yelling and noise, with a prize awarded to the fastest team.
"It only takes a few minutes to teach a person who is passionate and eager to learn," Lichtmen noted.
Learn more about responding to active shooter events