MagneGrip Introduces New Tailpipe Adapter
Reduce the risk of danger to operating personnel and the public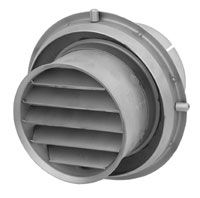 MagneGrip offers an optional tailpipe adapter for fire apparatus, designed with louvers to direct tailpipe exhaust discharge toward the ground. This patented design keeps the hot exhaust from endangering operating personnel and the public, and it complies with the NFPA 1901 Standard 12.2.5.6 proposal. The back side of the louvered tailpipe adapter has air inlet holes that allow ambient air to enter and cool the exhaust as it discharges. The inlet holes are sealed by a one-way silicon gasket that allows air to enter, but does not allow exhaust fumes to escape when connected to MagneGrip's exhaust removal system. The louvered tailpipe adapter is designed to fit all apparatus tailpipes.
About MagneGrip Exhaust Extraction Systems
With a MagneGrip Vehicle Exhaust Extraction System, there is nothing more effective at removing toxic air contaminants and protecting the health and well-being of your workforce. Visit MagneGrip online at www.magnegrip.com.