Video laryngoscopes purchased with trauma commission grant
Central EMS in partnership with Forsyth County fire department is adopting video laryngoscopy for endotracheal intubation
---
ATLANTA — Central EMS adds video laryngoscopes to seven ambulances that serve Forsyth County with 911 service through a partnership with the Forsyth County Fire Department.
"In February, we held training with our paramedics and EMTs, and our team has been impressed with how the devices have increased visualization and can help improve intubation in the field," Gary Coker, Central EMS president, said. "We are committed to serving the Forsyth County community with the most advanced technology, vehicles and medical protocols, as well as integrated training with local hospital staff and first responders."
The Intubrite video laryngoscopes are part of this effort and were provided to Central EMS by the Forsyth County Fire Department with a grant from the Georgia Trauma Commission.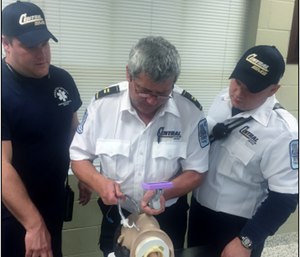 "This grant from the Georgia Trauma Commission through our partnership with the Forsyth County Fire Department will further improve our county's emergency response system," Coker said. "The Intubrite video laryngoscope is another tool in our paramedics' toolbox for top-quality patient care. The new technology will make intubation quicker and more precise for a number of our patients."
The IntuBrite device improves upon intubation. In direct laryngoscopy, the paramedic views the trachea from above the patient. The video laryngoscope eliminates this distance with magnified view of the trachea on a high-quality LED digital display.
Central EMS provides advanced life support, basic life support, critical care, nonemergency and emergency transport services from 13 stations throughout Georgia, including the Atlanta metro area and its surrounding counties. Additionally, Central EMS provides air ambulance services national and internationally through Central Air Ambulance based in the Metro Atlanta area.