PRESS RELEASE
Photos: Suspect fails to damage Lenco BearCat with SUV
---
COBB COUNTY, Ga. —  Lenco Industries, Inc., a global leader in the design and manufacturer of armored police vehicles, recently received a letter from an unnamed officer describing an incident where his SWAT team's parked, unoccupied BearCat vehicle was rammed from the side by a disgruntled civilian in a Ford Explorer. Though the suspect's SUV was badly wrecked by the collision, the BearCat only suffered minor cosmetic damage in comparison.
The officer described the event in writing, and provided pictures taken at the scene.
Our BearCat was parked unoccupied out in front of our Special Operations facility when a guy with an extensive criminal history drove by and saw it. He decided he was going to take out his years of frustration and he turned around and drove into the large parking lot.

He got up to ramming speed and hit the BearCat broadside with his Ford Explorer. I don't know what his speed was, but debris from his front end was found 40-50 yards down range on the other side of the Bearcat.

As you can see from the attached photos, we definitely won the challenge.

Thanks for making such fine vehicles and for the even better customer service over the past 3+ years.

V/R,

Cobb County GA Police Dept.
Uniform Bureau / SWAT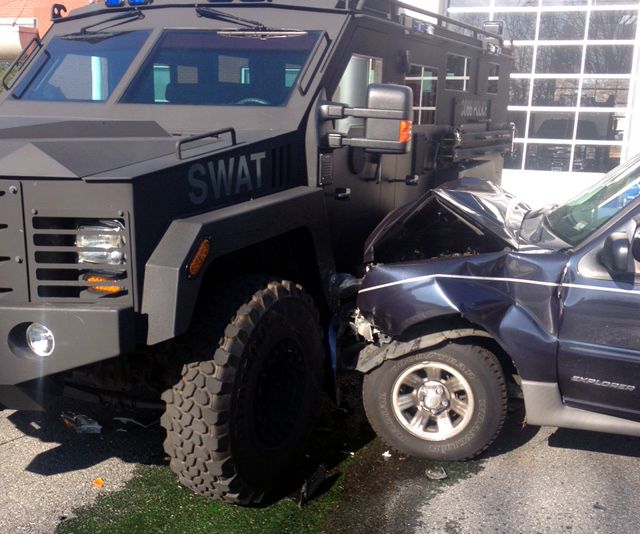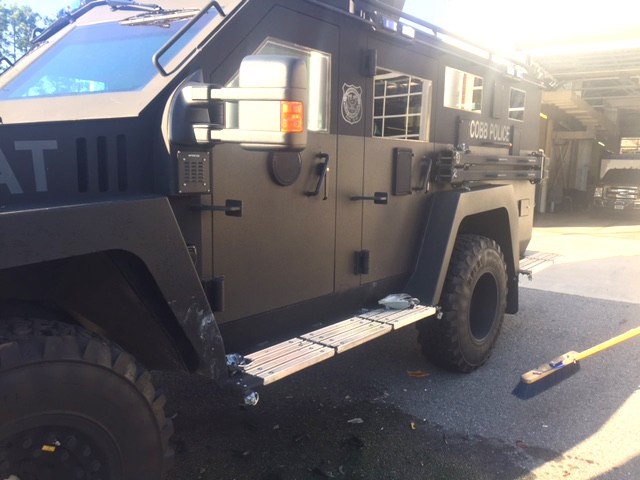 Since its introduction, the Lenco BearCat has raised the standard for armored personnel carriers used by military and law enforcement. Fortified by half-inch thick steel, .50 caliber rated ballistic glass, and blast-resistant floors, the BearCat's durable chassis has shielded officers from weapons fire and other life-threatening hazards. A BearCat vehicle was also used to breach the outer wall of the Pulse nightclub, creating an escape route for civilians trapped in the building by an active shooter.
About Lenco Industries, Inc.
Lenco Industries designs, develops and manufactures armored security vehicles for law enforcement, military, government and private security forces working to safeguard our nation's homeland security as well as allied nations around the world. Lenco's client base includes the nation's most prestigious law enforcement agencies, with BearCats in all 50 states and 98% of the top 100 cities. Lenco is a supplier to the US State Department, Department of Energy, ATF, US Marshals and other high profile government agencies. Lenco's product line includes the G-Series and X-Series BearCats, with several variants for SWAT, Response, Medical Evacuation, Fire Response and Diplomatic Transportation. For more information, visit www.LencoArmor.com.
Request more info from Lenco Armored Vehicles
Thank You!