Product Review: 3M Littmann CORE Digital Stethoscope
Kelly Grayson shares how the digital amplification option from Eko stands up to rig noise and abuse
---
Smile and nod, smile and nod. Watch the face of the person speaking, interject a pithy comment now and then. Ask questions frequently, phrased in such a way that the speaker thinks I'm fascinated and want to expound on the topic, not that I'm desperately seeking clues as to what has been said that I already missed.  
And never, ever let it show that you've missed most of the conversation, including the name of the person talking to you. If caught, apologize and explain that sometimes you have a hard time hearing.
I've been hearing impaired since childhood, the result of childhood trauma and many years of shooting without adequate ear protection. People who meet me for the first time at EMS conferences probably think I'm aloof or ill-at-ease in social situations, a far cry from my persona in teaching or delivering conference presentations. But the truth is, I don't do well in crowds, because I simply can't hear.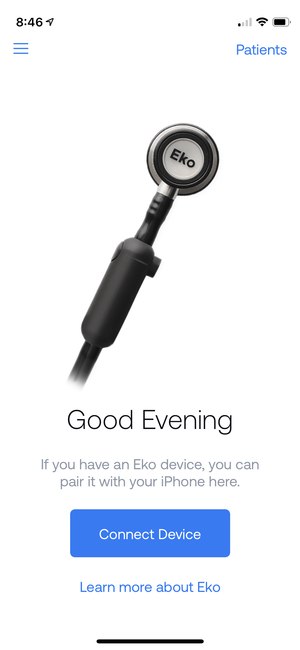 I became an intuitive lip reader from long practice at EMS conference social functions, but if we're in a group of people talking and I can't see your face as you speak, I don't hear a thing. Everything sounds like Charlie Brown's teacher.
If I met you at a conference and I can't remember your name from meeting you before, I likely didn't hear it when you told me. Instead, I just smiled and nodded politely, and tried to hide my unease. When I met my fiancée, I spent three hours I didn't want to spend in a noisy conference hotel bar, waiting for someone – anyone – to call her by name because I hadn't heard it the first time, and I desperately wanted to ask her out.
I've been too stubborn to try hearing aids, so I've had to fashion a number of expedient solutions to function as a hearing-impaired paramedic, and I've learned to use my stethoscope in uncommon ways.
I work much like a flight medic in that if I really need to know something my ears can tell me, I check it on scene before I transport. I palpate blood pressures and double-check against the plethysmograph waveform. I have my partner double-check me on breath sounds. I back up the wheezes I thought I heard by the shape of the capnograph waveform.
I bought the best stethoscope money could buy because it was the only one I could hear through. I was regarded as a stethoscope snob by my peers. What do you expect me to do, use this double-tubed monstrosity in the ALS bag? What are we, savages? I'll just use my DRG Puretone Cardiology Ti-Lite. You've probably never even heard of it."   
So when Eko offered to send me a new 3M Littmann CORE digital stethoscope from Eko to test and evaluate as part of an Inside EMS sponsorship, I took them up on the offer with great anticipation. I'd finally be able to take a blood pressure in the back of an ambulance that doesn't sound like road noise and a diesel engine!
Digital amplification
Amplified scopes are nothing new. I've tried a number of them, and always went back to my DRG Puretone acoustic stethoscope. The problem? The amplified scopes I tried amplified everything, including background noise. I still couldn't pick out subtle sounds because their noise cancellation wasn't all that good. I couldn't justify spending over $600 for a stethoscope that didn't do what I needed.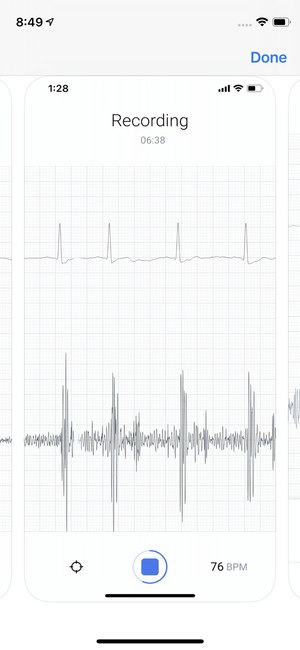 The Eko CORE digital attachment distinguished itself from its competitors by allowing users to add digital amplification to their existing conventional stethoscope, at a very affordable price point compared to other digital stethoscopes. Now, premium stethoscope maker Littmann offers a stethoscope paired with the Eko CORE technology, at a price comparable to its high-end acoustic scopes.
The 3M Littmann CORE is basically a Littmann Cardiology IV stethoscope with all the features you'd expect in a high-end stethoscope. It boasts a tunable diaphragm that allows the user to hear different frequency sounds by altering the pressure on the chest piece (which has adult and pediatric diaphragms). The tubing is the robust, thick tubing we've come to expect on Littmann scopes, and it is topped off with a set of ultra-comfortable gel-filled earpieces.
Integrated with this quality acoustic scope is the Eko CORE module, which allows easy toggling between acoustic and amplified digital modes. You can adjust the volume up to 40x amplification, and you can connect your phone via Bluetooth the Eko app to send recordings. Just pair the Eko CORE with the app on your smartphone and you can save recordings of 15, 30, 60 or 120-second duration, and the software has AI capable of analyzing recordings and identifying heart murmurs.
Durability
You're probably thinking, "Yeah Kelly, you've recited all its technical specs and features, but how does it work? Will it stand up to abuse on my rig?"
The answer is, "Quite well, actually." I've used the Littmann Eko Core every day at work for three months now, and it's still going strong. The noise-canceling technology filters out most of the background noise, allowing me to distinguish Korotkoff sounds and lung sounds from road noise and diesel engines.
I typically begin my shift by tossing my personal gear bag onto a shelf in my rig, and the Eko CORE comes out of it with my first patient of the day. It rarely gets put back into the bag until the shift is over, 24 hours later. In the interim, it hangs from grab rails banging against the wall of the rig with every bump in the road. It gets sat upon, or tossed toward a padded bench seat with varying degrees of accuracy – a significant percentage of the throws hit the floor or cabinet walls. Still, the Eko CORE works as advertised. The digital module charges via a micro USB cable, and a two-hour charge usually lasts at least a couple of days. If the batteries happen to die during use, you're still auscultating with a 3M Littmann Cardiology IV scope. They don't get much better than that.
Remote recording
One of the most useful features I've found is the remote recording feature. Our agency's COVID protocols at one time discouraged crews from entering homes with known or suspected COVID-positive patients. Whenever possible, we asked symptomatic patients to step outside if they were able. I could, and often did, hand my Eko CORE to a patient and told them where to hold it against their chest, while I stood six feet away listening to the lung and heart sounds via earbuds paired with my phone.
As our knowledge of the coronavirus and how it spread increased, our procedures evolved and we stopped taking such extreme isolation measures, but even today, using the Eko CORE this way gives me greater peace of mind knowing I need not kneel in front of a coughing, hacking patient with my face less than a foot from their mouth and nose, masked or not.
Using the Eko CORE has increased my confidence in auscultation, and that greater confidence has seen me listening to more patients. I even listen to heart sounds now, a skill at which I've never been proficient, and two weeks ago I heard my first S3 sound in a real patient.
The free Eko software is HIPAA-compliant and displays a graphic showing frequency and amplitude of the sounds you record. You can assign a patient name to the recording and annotate it with clinical data and the auscultation site. Eko also offers a free learning academy app with extensive tutorials on stethoscopy, and a telehealth app for securely sharing recordings with a physician. The only thing that keeps it from being absolutely indispensable is that it lacks an option to integrate with other telehealth software. When I do a treatment in place as part of our ET3 program, I can attach all my cardiac monitor data for the telehealth physician, but I can't let him hear a recording of the lung or heart sounds.
I'm rapidly reaching a new level of proficiency at auscultation thanks to the Eko CORE, and my next mission is to explore the features of the accompanying software, and bring real-world patient recordings to my classroom. If you're looking for a high-quality amplified stethoscope with a ton of features, give the Littmann Eko CORE a try. I doubt you'll be disappointed.
3M Littmann CORE Digital Stethoscope specifications
Cardiology-grade stethoscope that toggles between analog and amplified listening modes
Up to 40x sound amplification and active noise cancellation eliminates distracting background noise and makes listening easier, especially in challenging cases
Soft-sealing ear tips provide an excellent acoustic seal and comfortable fit
Tunable, dual-sided stainless steel chest piece with open or closed bell designed for use with adult and pediatric patients
Pairs easily with your mobile device for wireless listening and telehealth exams
FDA-cleared, HIPAA-compliant, encrypted and SOC 2 compliant
Automated detection software helps you identify signs of disease faster (subscription may be required)
$299