Fla. county schools to connect buses to county emergency radios
The school district will purchase and install 690 radios on buses and equipment on 12 tower sites, all tied to the county's existing 800-megahertz emergency system
---
Kimberly C. Moore
The Ledger, Lakeland, Fla.
BARTOW, Fla. — Polk County Public Schools Transportation Director Rob Davis reached down and hugged a crying Denise Williams following an extended conversation Tuesday about adopting a new radio system for school buses. The impetus for the move came from Williams and her longtime boyfriend Dave Gautney after their severely handicapped and wheelchair-bound daughter, Terissa Gautney, died following an incident on a school bus last year.
"I feel like we finally did what we wanted," Williams said following an afternoon work session of the Polk County School Board. She was still choked up. "I'm very excited they're all on board with this."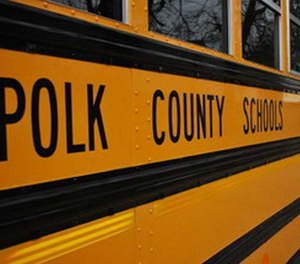 Williams and Gautney have asked the school district to implement a radio system that is connected to all emergency services in the county. When their daughter's head tilted over, blocking her airway, it was six minutes before a bus aide noticed and the bus driver pulled over. They called the county's bus dispatch office, who took seven more minutes to respond to their calls of an emergency. The dispatcher called 911, but Terissa's airway had been blocked for 21 minutes before paramedics arrived.
With School Board member Kay Fields absent, the school district officially voted 6-0 Tuesday night during the monthly board meeting to purchase and install 690 radios on buses and equipment on 12 tower sites, all tied into the county's already existing 800-megahertz emergency system. The cost is about $6 million. The district is also saving about $600,000 by signing up for a $478,000 maintenance contract with Motorola instead of paying the county $1.1 million for the same services.
"So it's really a minimal overall cost over, say, a period of 10 years," said School Board Chairman Lynn Wilson.
School board member Lori Cunningham said the safety of students is worth every penny.
"We have a parent in the room, whom everybody recognizes, who lost a child on our bus," said board member Lori Cunningham, her voice cracking. "The bottom line is the child would still be here if we had a system like this. We're way behind in doing this."
As Cunningham spoke, Williams began quietly crying in the audience.
"We've been asking for some time now to do something to prevent what has already happened," Cunningham continued. "I feel like it's a lot of money. If you save one life, to me it's worth $6 million."
The new system will not only be connected to the Polk County Sheriff's Office, fire rescue services, and various municipalities, it will also connect to similar agencies in multiple Central Florida counties.
"In the case of an emergency, they can hit an orange button and have direct communication with the 911 system," Davis said. "With the 800-megahertz system, we can identify the bus and the location."
Board members Billy Townsend and Lisa Miller applauded staff for their efforts, but were frustrated that they weren't told this was in the works. Davis said they have been actively working on this for months, receiving a final proposal from Motorola on March 5.
"I feel like a guy who's been begging for a drink of water for nine months and has had a cooler dumped on me," Townsend said. "This is a massive response to a big problem that has been before us for months and we did nothing to tell the public."
The district is looking into using funding from the half-cent sales tax, passed by votes in November, to pay for the system. Davis said without the sales tax, he couldn't have even explored the new radios.
"We wouldn't have had the funds to do it," Davis said. "So based on that sales tax passing, it was the catalyst."
———
©2019 The Ledger (Lakeland, Fla.)
McClatchy-Tribune News Service

Request product info from top EMS Radios companies
Thank You!