Privacy concerns raised over sharing COVID-19 patient info
The ACLU and other critics have raised privacy concerns about the sharing of patients' names and addresses public safety agencies
---
By Laura French
COOK COUNTY, Ill. — Lawmakers in a total of 35 states have approved measures to share COVID-19 patients' information with first responders, drawing criticism from civil rights advocates including the American Civil Liberties Union (ACLU). 
Cook County, Illinois, is one of the most recent localities to push for sharing of data that would allow first responders to prepare for contact with a patient who has tested positive, but officials there have faced backlash from those who say the measure would be a detriment to individual privacy, according to ABC News.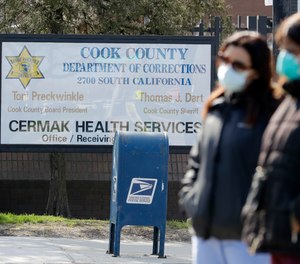 Of the 35 states that allow the sharing of patient addresses with public safety agencies, 10 also allow for the sharing of patients' names, including New Jersey, Colorado, Louisiana, New Hampshire, Ohio and Virginia. 
Some Cook County officials are seeking to provide both names and addresses, but Cook County Illinois Commissioner Brandon Johnson told ABC News that the potential benefit to first responders "can't be at the expense of families and communities that have been marginalized by racism for far too long in this country." 
A letter from ACLU Illinois to the Cook County Board also stated that providing the data will "give first responders a false sense of security" and discourage residents from getting tested to avoid having their information shared. 
Other states have also faced pushback in their information-sharing efforts. In April, Tennessee Gov. Bill Lee issued an executive order that gave the state's Department of Health permission to share names and addresses with law enforcement agencies. Members of the National Black Caucus sent a letter to Lee opposing the information-sharing, and Caucus member Rep. Harold M. Love Jr. said the policy would reduce trust and deter testing among the African-American community. 
The Tennessee Department of Health announced a week after the executive order was signed that it would no longer be sharing patient data as of May 31 because the stabilization of the PPE supply chain meant it was no longer necessary. 
Georgia Gov. Brian Kemp also announced in April that the state's Georgia Emergency Management and Homeland Security Agency would release COVID-19 patient information with 911 centers, leading ACLU of Georgia Executive Director Andrea Young to respond with a statement, saying, "Protecting the health of first responders is very important; however, public health experts have noted that asymptomatic individuals, people who have not been tested, may transmit the virus. This practice is intrusive on privacy without conferring additional safety for our first responders." 
The U.S. Department of Health and Human Services Office for Civil Rights issued guidelines in March under which hospitals and other healthcare facilities are permitted to disclose protected health information with public safety agencies. The guidance states that information can be disclosed to protect the health and safety of first responders and when it is necessary to provide treatment, but that entities must make an effort to disclose only as much information is necessary to serve these purposes. 

Request product info from top EMS Personal Protective Equipment companies
Thank You!