Pa. governor announces PPE stockpile to prepare for potential virus resurgence
Gov. Tom Wolf said the state is ready to supply sufficient PPE to first responders and healthcare workers this fall
---
By Laura French
HARRISBURG, Pa. — Pennsylvania Gov. Tom Wolf has announced that the state now has a stockpile of PPE ready to be distributed to first responders, healthcare workers and other essential workers in case of a resurgence of COVID-19.
Wolf said in a press release that the stockpile includes masks, gloves, gowns and face shields, and is the result of "proactive and ongoing efforts to secure PPE, coupled with the flexibility and ingenuity displayed by Pennsylvania's business community."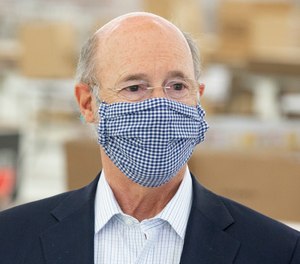 "We have significantly more PPE on hand to assist those who need it than we had prior to COVID-19. We continue to push PPE to those who need and request it and will work to ensure we keep our stockpile full," Wolf said in a statement. 
Since the start of the pandemic, the state has distributed about 5.4 million N95 masks, 736,000 gowns, 2.75 million procedure masks, 7.7 million gloves and 1.3 million face shields, according to the press release. 
As of Monday, Pennsylvanian has had nearly 152,000 confirmed cases of COVID-19 and more than 8,000 deaths due to the disease, according to the state Department of Health. 
"I want all Pennsylvanians to know that the commonwealth is prepared now for battling the ongoing pandemic that is COVID-19 and that preparedness extends to a possible resurgence this fall," Wolf said in a statement. "There are still many unknowns with this virus, and we can't control those, but we can control what we know and we know that by being ready with enough PPE, we can protect our health care workers, first responders and other essential workers and not overwhelm our health care system." 

Request product info from top EMS Personal Protective Equipment companies
Thank You!