Minnesota issues '5-day Emergency Suspension of Ambulance Services' memo
Ambulance services asked to maintain normal operations during COVID-19 pandemic but are given exceptions to staffing, equipment and drug requirements
---
State EMS regulators, likely in response to service director questions about being unable to restock PPE or staff ambulances because of personnel in quarantine or isolation, are probably being inundated for guidance about how to continue operations during the COVID-19 pandemic. This article has been updated with additional information provided by Tony Spector, executive director, Minnesota EMS Regulatory Board. Read "Free EMS to continue service during a national emergency" by Rob Lawrence, an experienced EMS executive and military medical commander.
MINNEAPOLIS — The Minnesota Emergency Medical Services Regulatory Board issued a 5-day emergency suspension of ambulance services on March 13, 2020, which advises, "During this declared emergency, normal operations should be maintained when possible. However, operations may be modified, as outlined below, when necessary."
The two-page document references specific sections of Minnesota State Statute (M.S.) 144E.101 Ambulance Service Requirements and was triggered by the declaration of a peacetime emergency by Governor Tim Walz to prepare the state for COVID-19 pandemic. Walz's declaration was issued on the same day President Trump declared the pandemic a national emergency.
In Minnesota, a peacetime emergency, with no geographic limitations, triggers 144E.266 Emergency Suspension of Ambulance Service Requirement, according to Tony Spector, executive director, Minnesota EMS Regulatory Board.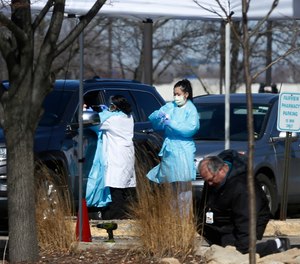 I spoke with Spector on March 15 about the peacetime emergency, the guidance given to EMS leaders and the impact of the order.
"We are not aware of any ambulance services deviating from normal operations," Spector said. 
"An email was sent to all ambulance services, medical directors, police, fire and sheriff associations on Friday," Spector said. 
He also explained that services don't need to notify the EMS Regulatory Board if they change ambulance staffing or equipment. "There is no provision and no obligation to notify us," Spector said. 
According to the 5-day suspension guidance, "this may mean under suspension of this statute, a responder may have no certification."
Regarding ambulance equipment, related to M.S. 144.103 equipment, the document states, "What does this mean? This suspends the requirements to carry specific equipment related to your ambulance service. All maintenance, sanitation, storage, and testing of equipment, supplies, and drug requirements are also suspended. Expired items may be used, please refer to the CDC Guidance for EMS."
Other notable statute suspensions include that an ambulance is not obligated to provide services 24 hours per day if unable, restrictions of the level of care provided are removed and drivers of ambulances are not required to have completed an emergency driving course.
"We will let services know if the order is extended by the State's Executive Council," Spector said regarding the March 18 expiration of the five-day order.  "We continue to be in touch with services and they are in touch with us so we can assist them and get resources to them." 
EMS leaders took to Twitter to comment on the suspension and speculating if something similar is possible in their own state. 
In 25+ years of doing EMS, I have never seen anything like this before.

Now, if only we could wave MSE and documentation/billing requirements for EDs. pic.twitter.com/Do4XBon3n2

— Matt Sztajnkrycer (@NoobieMatt) March 15, 2020
This is the single most dramatic action I've ever seen in EMS, but I wouldn't be surprised if something like this happens in PA- there are a lot of college med students/nursing students who may be helpful in an emergency. https://t.co/dcnmqciHak

— Nathan A. Harig (@nathanharig) March 15, 2020
Read more: 
Free EMS to continue service during a national emergency
How long to quarantine COVID-19 exposed police officers, firefighters, EMTs and paramedics
How to continue EMT, paramedic course instruction during COVID-19 pandemic
NREMT extends 2020 recertification deadline, modifies requirements due to COVID-19
Protecting providers during the COVID-19 pandemic
Social distancing to control COVID-19 spread: Action items for public safety