Good news: 2 W.Va. ambulance squads secure sufficient PPE
The two agencies, including a volunteer squad, were struggling to find protective equipment amidst COVID-19-driven shortages
---
Jeniffer Graham
The Dominion Post, Morgantown, W.Va.
KINGWOOD, W.Va. — Two Preston County ambulance squads said they had difficulty finding personal protective equipment (PPE) needed for their crews until the Preston County Office of Emergency Management stepped in to help.
Pam Thomas, president of KAMP Ambulance, and Kelly Fike, president of the Terra Alta Community Ambulance, said thanks to the Preston County Office of Emergency Management (OEM) they now have the equipment they need.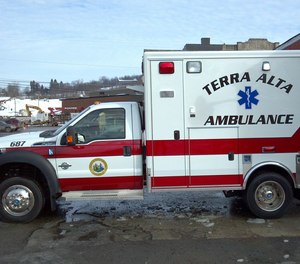 Assistant OEM Director Justin Wolfe said due to the coronavirus, PPE equipment is difficult to find.
"We've been working diligently to get the PPE that field responders need," he said. "It's difficult to find. We got some from the state and some we procured through private vendors. We've had to find some of the equipment we need in odd locations like from industrial supply vendors."
"We are doing all right," Thomas said. "We are fortunate. The OEM is keeping us supplied. We have everything we need." KAMP is the only 24/7, paid ambulance service in Preston County.
"Our call volume has increased during the virus," Thomas said. "More breathing problems are being called in."
The coronavirus has also caused employee and volunteer difficulties.
Thomas said although some of the staff is off duty due to having other essential jobs, she was able to find replacements.
Fike said thanks to the OEM, Terra Alta Community Ambulance has all of the PPE equipment it needs.
"We have been able to keep up," Fike said. "The OEM has been keeping us in supplies."
Terra Alta is a volunteer ambulance service. Fike said it is having difficulties finding volunteers to keep its shifts open.
"We are short-staffed," she said. "We have been for a while. We had to cut back shifts and are only running Monday through Friday morning and afternoon shifts."
Fike said calls to the ambulance squad have decreased.
"There has been a decline in calls," she said. "I don't know if it is because we are not able to cover all of our shifts or not."
Fike said Terra Alta Community Ambulance is accepting applications for EMTs, drivers and paramedics.
Other Preston County ambulance squads contacted did not respond in time for this report.
———
©2020 The Dominion Post (Morgantown, W.Va.)
McClatchy-Tribune News Service

Request product info from top EMS Personal Protective Equipment companies
Thank You!