FDNY EMS told to wear masks on all calls, assume all patients are infected
The department previously instructed EMS providers to only wear N95 masks during aerosol-generating procedures
---
By Laura French
NEW YORK — The FDNY has changed its directive on masks for EMS providers during the COVID-19 pandemic, instructing that masks should now be worn on all calls. 
In a memo issued this weekend, the department said surgical masks should be worn at every call and N95 respirators should be used during close contact with any patient, according to the New York Daily News.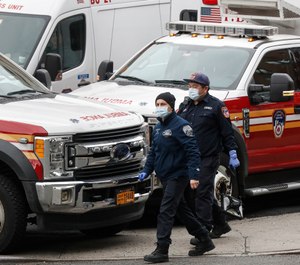 The department previously said masks should only be worn during aerosol-generating procedures such as CPR. 
The memo also stated that all patients should be considered infected with COVID-19, and everyone, including coworkers and family members, should be considered exposed. 
Prior to the change, Local 2507 President Oren Barzilay said in a letter to FDNY Commissioner Daniel Nigro last week that not wearing masks on calls was putting members' health at risk. The union encouraged its members to wear N95 whenever possible. 

Request product info from top EMS Personal Protective Equipment companies
Thank You!