Calif. lawmakers propose $250M PPE stockpile for next pandemic
The proposal would require a 90-day supply of PPE to be readily available through the state Department of Public Health in case of another outbreak
---
Hannah Wiley
The Sacramento Bee
SACRAMENTO, Calif. — Gabe Montoya hasn't hugged his mom since March 6.
Montoya, 41, is an EMT in the emergency department at a Kaiser hospital in Downey, and said since the start of the pandemic in March, it's been a near-daily struggle to get the personal protective equipment needed to keep him and his patients safe from COVID-19.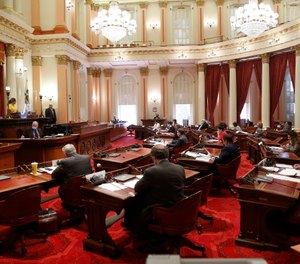 Montoya said the limited gear means health care workers can't be sure they're not exposed to, and then carrying home, the deadly virus.
"It's an emotional thing not to be able to hug your mother, to kiss your spouse. Because you're afraid you would give it to them," said Montoya, who also isolated for six weeks from his husband. "These are the stories you talk about in the break room at work."
For months, one of the nation's greatest challenges in the battle against COVID-19 has been finding enough masks, gowns and face shields, among other equipment, for health care workers to feel assured they are not spreading or catching the coronavirus from their patients.
California has been no different, which is why two Senate Democrats have introduced a measure that would require the state Department of Public Health to stockpile a 90-day supply of PPE in preparation for the next pandemic or health crisis. They estimate it would cost about $250 million.
Senate Bill 275 would also mandate health care providers, including hospitals and nursing homes, maintain their own reserves.
The department and health care providers would have to purchase at least 25 percent of the materials from California businesses.
California at one time made a significant investment in the Department of Public Health, and set aside tens of millions of dollars to stockpile emergency supplies.
Once the Great Recession hit, those investments were de-prioritized and California stopped spending money to keep the supply available.
That disinvestment left Gov. Gavin Newsom and administration officials without access to the amount of equipment needed during the early days of COVID-19 in March. Newsom and his staff scrambled to make deals in real time, and often in a flurry, with manufacturers who promised they could supply mass amount of PPE.
Some of the deals fell apart, including one with a company called Blue Flame that California almost wired half a billion dollars to procure masks.
Others needed time extensions to fulfill commitments, like a $1 billion deal with Chinese company BYD for tens of millions of N95 masks. The state ended up having to grant an extension to BYD to secure federal certification of the equipment.
"One has to realize that at the beginning of every disaster, there's a lot of chaos," said state Sen. Richard Pan, D-Sacramento. "China was probably the cheapest place to get the stuff, but you can see what happens when the supply chain falls apart."
Meanwhile, health care workers up and down the state have had to reuse masks or craft makeshift gowns with trash bags in lieu of the high-grade equipment. Seventy-three California health care workers have since died from the virus, and another 12,173 have tested positive, according to June 14 public health data.
The coronavirus has also spotlighted how race and socioeconomic status factor into the crisis. Low-income workers and Black and Latino Californians have been disproportionately affected by the virus, and often lack access to testing.
State Sen. Connie Leyva, D-Chino, who joint-authored SB 275, said the 90-day supply would ensure all essential workers, and not just health care providers, could get the protective equipment. The bill is sponsored by SEIU California, one of the state's most powerful unions.
"This is a working people's bill, about taking care of the working class in California who took care of us during this time," Leyva said.
It's unclear whether lawmakers, and eventually Newsom, would approve a bill predicted to cost $50 million annually for five years amid a recession caused by the virus, which is projected put the state into a $54 billion deficit.
The Legislature and Newsom's administration are in the middle of negotiations on a budget deal that could force cuts to social services and support programs throughout the state. Any new spending is sure to face increased scrutiny and review.
Pan said the billions California has spent to battle the coronavirus, however, on top of the double-digit unemployment numbers and the economic devastation caused by having to shutter businesses, is reason enough to make investments today to avoid a repeat down the road.
"When you think about the scale of what we are going through now," Pan said, "the amount of money you'd have to spend to be prepared is a small fraction of that."
———
©2020 The Sacramento Bee (Sacramento, Calif.)
McClatchy-Tribune News Service

Request product info from top EMS Personal Protective Equipment companies
Thank You!