All Utah EMS agencies to get access to pediatric resuscitation toolkit
Pediatric emergency technology company Handtevy partnered with the state to roll out its resuscitation system and education courses
---
By Laura French
FORT LAUDERDALE, Fla. — Utah's Emergency Medical Services for Children program has partnered with Florida-based pediatric emergency technology company Handtevy to provide all EMS agencies in the state with Handtevy's pediatric resuscitation system and education courses. 
State officials will work with Handtevy to roll out Handtevy Mobile on EMS providers' mobile devices, offering quick access to pediatric dosing and resuscitation guidance to help provide appropriate care in pediatric emergencies, according to a press release published Thursday.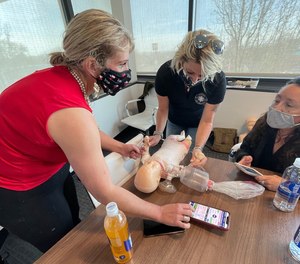 "Handtevy Mobile gave us the fastest dosing solution with the best accuracy. We know seconds are precious and believe Handtevy gives our EMS agencies an edge in saving lives," said Brett Cross, the director of specialty systems of care and education under Utah's Bureau of EMS and Preparedness, in a statement. 
The Handtevy Mobile application provides medication dosing guidance customized around each department's unique formulary, according to Handtevy, and also includes CPR Assist, which provides information on pediatric CPR and defibrillation along with full event documentation capabilities. EMS providers in the state will also receive access to education courses to learn how to take full advantage of the Handtevy toolkit. 
Handtevy was founded by Dr. Peter Antevy, a pediatric emergency medicine physician at Joe DiMaggio Children's Hospital in Hollywood, Florida, and the EMS medical director for Davie Fire-Rescue, the Coral Springs Fire Deaprtment, Southwest Ranches Fire Rescue and American Ambulance. He is also the associate medical director for Palm Beach County Fire Rescue and president of the Greater Broward EMS Medical Directors' Association. 

Request product info from top EMS Neonatal/Pediatric companies
Thank You!