How EMS can use smartphones to record ECGs
Medics can use a new sensor and app to get ECG data on-the-fly from electrical impulses in patients' fingertips
---
EMS providers will soon be able to access ECG data in the field – or remotely from patient's themselves – using a new mobile app that measures electrical impulses from a user's fingertip.
AliveCor's Heart Monitor and its free mobile app work as a heart monitor that is a single-channel ECG sensor that snaps on to the back of most smartphone devices.
AliveCor's Health Monitor and mobile app gives EMS providers actionable, patient cardiac-health data, said Euan Thomson, the company's CEO.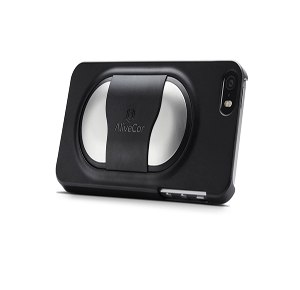 "Patients place their fingers on the electrodes embedded in the monitor, or rest it on their chest," Thomson said. "Subsequently, a single channel ECG tracing appears within seconds in the AliveECG app."
The mobile app displays, stores and prints the ECG rhythms, so a patient or paramedic can share the information by email, print it as a PDF, or view the recording on the AliveECG app on a mobile device.
Data is stored locally on the mobile device as well as in the cloud, so health professionals and patients can access it confidentially over HIPAA- and EU Data Privacy-compliant secure servers. 
The reading is comparable to one from Lead 1 of gold-standard ECG machines, but is not intended to be a replacement for a 12-lead ECG, Thomson said. 
"This makes for a more complete picture of their patients' medical history so [health-care providers] can make more educated treatment decisions," he said.
To support information sharing across agencies and improve patient care, AliveCor in February announced a partnership with Practice Fusion that lets health care providers import the ECG readings, annotated reports and expert reviews from the Heart Monitor into the Practice Fusion software suite.
The AliveCor Heart Monitor costs $199, and has been validated for the Apple iPhone 4, 4S, 5, 5c and 5s; the Apple iPod Touch 5; the Samsung Galaxy S 3 and S 4; and the HTC One.
"There is real potential," Thomson said, "For this to help inform and aid first responders."