How to buy EMS medical equipment
When purchasing medical products consider discounts, bulk purchasing and current customer references
---
Medical products are the broad range of supplies EMS professionals use to assess, treat, and transport patients. In a single patient encounter, you might use assessment tools like a stethoscope and blood pressure cuff, treatment products like oxygen delivery devices, and transportation tools like backboards, stair chairs, or cots.
When purchasing medical products, consider these things:
1. Preferred pricing or discounting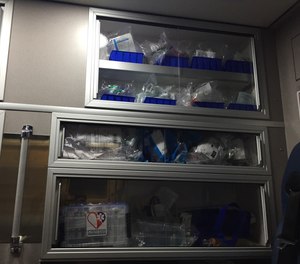 Buying as many supplies as possible from a single vendor may make your agency eligible for preferred pricing or discounting. Some vendors carry everything from airway tools to zip-up boots. Purchasing from a single vendor may make purchase orders, invoicing, and payment easier and save your organization time and money.
2. Availability of bulk purchasing discounts
Use previous quarterly or annual inventory data to determine the likely amount of supplies needed in the upcoming quarter or year. Ask your medical supply vendor about the availability of bulk purchasing for the supplies your personnel use most often.
It is also important to answer these bulk purchasing questions:
Is the money saved for a bulk purchase enough to offset the cost of storage? 
Is the cost savings increase the risk of supplies not being used before their expiration dates?
3. Membership or association discounts.
Some regional, state, and national EMS industry associations have negotiated purchasing agreements for their members with medical product suppliers. The Wisconsin EMS Association Group Buying Program and the Savvik Buying Group are two examples.
4. Talk to current customers
As vendors of any medical products for references of current customers in your region. You can never go wrong by asking for a reference, especially if you are consolidating ordering to a primary vendor for all medical products. Ask about the:
Ease of making orders
Reliability of delivery
Quality of customer service
Responsiveness to surge in dema and
Correction of misorders
Finally, attend industry events like EMS World Expo and EMS Today as well as regional trade shows. Visit with medical products vendors to learn about current and upcoming products. Many vendors provide hands-on training demonstrations to help ensure that you are using medical products as effectively as possible for patient assessment, treatment, and transport.
Any other suggestions for purchasing medical products? What types of medical products brands have worked well for your service? Anything we missed in the list above? Leave a comment below or email products@ems1.com with your feedback.
This article, originally published January 8, 2010, has been updated with current information

Request product info from top EMS Medical Equipment companies
Thank You!