Bone Injection Gun offers innovative intraosseous technology
PerSys Medical releases smallest automatic IO device on market
---
The Bone Injection Gun (B.I.G.) is the world's first spring loaded, automatic intraosseous device allowing for safe and rapid IO access in emergencies where vein lines cannot be established in a timely manner.
Available in both adult and pediatric versions, the B.I.G. is a simple and inexpensive IO solution for practically any scenario.
The B.I.G. is the smallest automatic IO device available in the market. The B.I.G. is only 6 inches long and weighs less than 3oz (including packaging). The adult B.I.G. is FDA approved for use on patients 12 years+ at 4 sites, including both proximal Tibia sites and both proximal Humorous sites.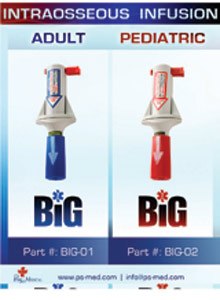 The pediatric B.I.G. is FDA approved for use on newborns to age 12 in the Proximal Tibia site, and its needle depth is adjustable according to the patient's age.
With a success rate of 96% (Journal of Trauma, March 2008), the B.I.G. has become a standard of care in EMS, hospitals and military units. The B.I.G.'s innovative design allows it to perform in the most extreme conditions such as:
• During MCI "The B.I.G. can easily and quickly provide vascular access (success rate >90% during the first attempt for non-medical operators)" (La Revue des SAMU, France 2005).
• "While wearing Nuclear Biological Chemical protective gear, the Intraosseous insertion of the B.I.G.'s needle is rapid and easy…" (Ben-Abraham 2002)
For more information, visit www.ps-med.com.

Request product info from top EMS Medical Equipment companies
Thank You!