Video laryngoscopy during chest compressions
Salt Lake City Fire Department investigation finds no difference in the interruption to compressions between video and direct laryngoscopy
---
DALLAS — Advanced airway placement during cardiac arrest resuscitation may interrupt chest compressions and lead to excessive ventilations.
Scott Youngquist, MD, the medical director for Salt Lake City, presented a process to implement video laryngoscopy and determine if VL could lead to less interruptions in chest compressions than direct laryngoscopy at the 2016 Gathering of Eagles XVIII EMS State of the Science program.
The success of intubation with direct laryngoscopy and video laryngoscopy were reviewed. During the trial period the quality of CPR, including interruptions to chest compressions during DL and VL, were measured and compared.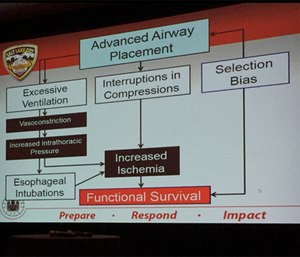 Youngquist reported no differences were found to interruptions to chest compressions which reinforced the importance of high-quality CPR.
Memorable quotes on airway management during CPR
"There is no chance of an unrecognized esophageal intubation as long as you are using end-tidal CO2 monitoring."
— Scott Younquist, MD
Key takeaways on DL and VL during CPR
Here are three takeaways from the paramedics involved in Youngquist's comparison of VL and DL.
Paramedics were able to achieve high quality CPR during DL and VL.
Paramedics in the study preferred King Vision VL to DL. The medics also preferred the King Vision to other VL devices
Paramedics, like physicians, had an easy time viewing the vocal cords with VL, but had a harder time passing the tube.
Top Tweets
Like MDs, paramedics find obtaining a view with video laryngoscopy is easier than passing the tube. #Gatheringeagles16

— Samuel Kordik (@samuelkordik) February 19, 2016
First pass success in Salt Lake City with dl,vl and King lt #gatheringeagles16 pic.twitter.com/IVrSdlktn5

— Mitch Page (@mitchpage3) February 19, 2016