Provider resiliency: Not just a head game
Boston EMS implements nutrition, physical and mental wellness education, psychological first aid to meet the needs of its members
---
By Nicholas Mutter, NRP; and Justin Pariseau, NRP
In late 2019, EMS systems across the United States were hearing grumblings of a new respiratory illness; but in the months ahead, nobody would know the impact it would have on our daily lives. Resources we once had at our fingertips were almost impossible to obtain. From mental health resources, to physical fitness programs, Boston EMS Peer Support Unit (PSU) and our union, Boston Police Patrolman's Association – EMS Division (BPPA-EMS) noted our members were faced with new challenges.
Boston EMS Peer Support Unit began taking a proactive approach to prehospital provider mental health several years ago, and through a committed Union-Management agreement the Boston EMS Peer Support Unit was formed. This unit is one of many within the Commonwealth of MA Peer Support Network and is peer driven and clinically guided, with 35 members trained through the International Critical Incident Stress Foundation curriculum.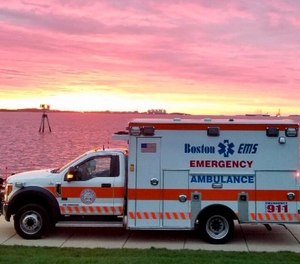 The unit has responded to hundreds of incidents since its formation in 1989 – from the aftermath of the Boston Marathon bombings, to members in crisis with suicidal thoughts, to counseling members who became victims of domestic violence – but this pandemic would rewrite the playbook as they knew it.
"We needed to take the playbook we've used for years, rip out pages and call an audible to meet the needs of our members during this unprecedented challenge," Lt. Patrick Calter, BEMS PSU coordinator, notes. "The initial marker of success was suicide prevention, but it did nothing to address the functionality and sustainability for our members after any time on the job. Our new goals were to provide the tools for a successful and healthy career with the department."
Psychological first aid
With ongoing state and federal restrictions, PSU found it difficult to deliver services in the traditional ways which have been successful for years. In discussions with the PSU Psychiatric Nurse Practitioner, Lauren Tempesta, this pandemic was equated to a prolonged mass casualty incident. Our providers were in response mode for an extended period of time, working long hours, concerned about their family contracting COVID, constantly being exposed to vicarious trauma due to the constant media coverage, but still capable of functioning in the high-stress environment. With ongoing restrictions at inpatient care facilities further limiting capacity for first responder-specific programs, PSU transitioned to psychological first aid.
At some point or other, crews would begin to burn out and become fatigued, and the reality that we were unable to sustain this response would eventually come to light. The PSU began addressing our EMTs and paramedics via social media, a newly developed website and daily emails, providing them information to quell any rumors or unnecessary panic. The PSU website was established in 2020 to help support our members with online resources, including podcasts from mental health clinicians, articles from peers and even home workouts. One-on-one therapy sessions transitioned to video calls, and all the while, PSU was supporting members diagnosed with COVID-19 by providing care packages with essentials to our sidelined members.
Physical and mental wellbeing
With the increasing complexity of COVID-19 related calls, increasing frequency of utilizing personal protective equipment and other associated stressors, we knew our staff was getting repeated sympathetic nervous system responses to calls. Research studies show the repeated SNS responses related to high acuity calls, including adrenaline dumps, create cortisol deposits in coronary arteries. Cortisol is responsible for increasing levels of cholesterol, triglycerides, blood glucose and blood pressure in prehospital providers, eventually leading to heart disease and Type II diabetes.
The Peer Support Unit, under the direction of Lieutenant Calter, identified Felicia Hickey as a resource to help establish a Health and Wellness Unit. The objectives of the unit included improving overall physical and mental wellbeing of our providers, promoting unity, comradery and inclusivity amongst new and veteran members, while aiming to decrease the rate of work-related injuries and promoting physical fitness.
According to a 2013 study involving EMTs and paramedics, 69% of providers report they do not have enough downtime between traumatic events and that "poor relationships with coworkers and dissatisfaction with supervisors were correlated with provider PTSD and depression."
In a time where our providers were faced with increased work stressors, increased workload and increased stressors at home, we noted what had also dramatically increased was their time. Time usually filled by children's sports, family vacations and other hobbies was now left vacant. "What we needed to do with that time was plant the seed of positive coping mechanisms in our members," Calter noted.
We quickly realized that the gym itself is not just a place to exercise, but rather an environment for recruits and veteran members to come together. It was an opportunity to break down social barriers and bring members of varying experience, cultural views and life experiences together during a time of increased stress, not precipitated by a specific critical incident.
We also realized that there was a missing a piece of the holistic approach; supporting the spiritual aspect of wellness. Chrissy Snyder, an EMT with Boston EMS, began to bring the spiritual aspect of provider resiliency to the program with yoga, meditation and bodyweight high-intensity workouts (HIIT). The Health and Wellness Unit also worked with the ongoing recruit class for their daily physical training. Prior to entering day one of the academy, prospective recruits were asked to complete a confidential questionnaire to help Health and Wellness staff and PSU staff tailor a plan to aid them in optimizing their coping mechanisms throughout a stressful career.
Nutritional education
The final piece of the program was nutritional program development. EMT Ahmad Taha, CPT, aided members in developing healthy eating habits, meal preparation and portion control strategies. This was the final piece to help keep our members on track, setting targets to lose weight, increase weight or increase strength, which all rely in part on nutritional intake and accountability. "We're working to help provide structure in a time where there isn't much going on. We're also teaching healthy coping skills to our members dealing with physical and emotional trauma," Taha reported.
Initial markers, weights and measurements were obtained from all recruits and documented through their three months while assigned to the academy. Overall, resting heart rate of recruits decreased by 16.8 BPM, average 1-mile run was decreased by 28 seconds, average leg press weight was increased by 192 lbs, and average back squat was increased by 64 lbs.
The numbers speak for themselves on the success of the program. Another important number is that there were zero documented transmissions of COVID-19 amongst participants, proving that established safety guidelines are effective.
"The mental and physical wellbeing of our members is pivotal to their ability to complete the job at hand," Felicia Hickey, BEMS Health and Wellness Unit coordinator, said. "Providers without resiliency often lack empathy and have difficulty connecting with the patients we are caring for. Allowing the providers to be physically fit and mentally resilient helps keep their head in the game and helps ensure our patients are getting the best care possible."
About the authors
Nicholas Mutter, NRP; and Justin Pariseau, NRP; are members of the media relations team for the Boston Police Patrolman's Association – EMS Division (BPPA-EMS), the union representing approximately 400 EMTs and paramedics for Boston EMS. Boston EMS is the 911 service provider for the city of Boston, responding to approximately 130,000 calls for service annually.
Felicia Hickey, Health and Wellness Unit coordinator, is a CrossFit instructor and has a long-standing relationship with The Phoenix multi-sport gym, a non-profit sober-active community assisting individuals in recovery from additions which donates the time and space to our members for supporting individuals in recovery.
More information can be found at www.BEMSPeerSupport.com or by emailing NicholasJMutter@GMail.com.

Request product info from top EMS Fitness, Mental Health and Wellness companies
Thank You!