Medic finds tranquility on the Pacific coast
After three decades as a firefighter/paramedic a Wash. man credits Madonna for a career boost
---
In 1984, when Doug Baier was a 29-year-old firefighter with the Livonia, Michigan fire department, he was drawn to a Detroit-area institution that attracted many young people in the '80s: Madonna.
No, not that Madonna; Madonna College – now Madonna University. "Some of my coworkers actually thought it was named after her," says Baier (pronounced "Buyer").
The 60-year-old Navy veteran, who'd become an EMT in 1982 because "it was the only way you could get into the fire service," discovered he enjoyed the patient-care part of his job enough to attend Madonna's paramedic program. He graduated in 1984 and began working as a dual-role medic – with Livonia until 1990 and the Bremerton (Washington) Fire Department ever since. Along the way, he noticed a fundamental change in EMS.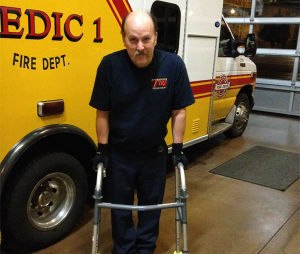 The evolution of EMS
"When I started, it was Emergency Medical Services," says Baier. "Our goal seemed to be saving hearts that were too young to die.
"At some point, though, we became 'prehospital care,' which meant the standard of care shifted from intervention in acute events to doing what the hospital did, but out of the hospital. Now we're actually flirting with post-hospital care.
"I don't know if I've kept up. I find myself on calls when I'm not really sure what the objective is."
Baier thinks new EMS providers need to embrace the industry's evolution and develop realistic expectations about the impact they'll have in the field.
"One of my heroes, Dr. Gregory Henry, calls emergency medicine 'the occasional application of scientific principles to meet human needs,'" says Baier. "What he means is, if you're thinking you'll be saving lives all the time, you're wrong; you're going to be meeting patients' basic needs, whether they're social, psychological or whatever. Occasionally, you'll do something medical, but mostly you'll be helping citizens through crises whenever they decide they're having one.
"That's what I remind myself: Even though most calls aren't too exciting, maybe I can still help somebody today."
One aspect of rescue that hasn't changed is the territoriality of neighboring districts.
"We have strictly geopolitical boundaries," Baier says. "Literally across the street from one of our stations is another jurisdiction. We wouldn't be dispatched to a call there.
"If I could wave a magic wand and change the system, I'd start by making sure the closest ambulance is sent to each call."
Firefighter or medic?
Baier enjoys the call variety inherent in his dual role.
"Firefighting is a nice distraction when the tones go off," he says. "It's a relief to have something other than routine EMS calls.
"My job is sort of like the movie Groundhog Day; I pretty much know who I'm going to see during each 24-hour shift. We've been doing a lot more social services for the 'EMS loyalists' in our community."
Despite the 80-20 mix in favor of EMS calls, Baier says firefighting is still the priority at Bremerton.
"We just hired a new paramedic. His whole first year, the emphasis is going to be on development of fire skills, even though his job will be mostly medical. I think that's pretty standard throughout the industry."
The focus changes for medics after their first year, though.
"Take King County, right across the water from us," says Baier. "They are officially the Seattle Fire Department and their paramedics are dual-role, but it's kind of a nod and a wink.
"The medics aren't expected to do any firefighting while they're assigned to medical units. They have turnout gear, but they'll probably only wear it once a year when they're assigned to engine companies for refresher training."
Staying sharp
A bigger issue for paramedics than firefighting skills, Baier says, is maintaining proficiency in their primary occupation.
"My old department, Livonia, went from having no practicing paramedics to 95 of them. I see this sort of trend everywhere.
"Our county (Kitsap) has even more medics than Seattle does. How can we all expect to get enough practice?
"Circumstances are changing in our industry. I used to go to work and not be surprised when I got an intubation. Now I hardly ever get to try one. I don't know if it's part of the aging process, but I actually started to get timid with airway management because I wasn't doing it often enough."
Seeking quality of life
When Doug is off duty, he and his wife of 36 years, Ann, usually choose a good movie.
"Goodfellas and Casino are two of my favorites," Baier says. "I could feed you a few lines, but you probably couldn't print any of them.
"My coworkers tease me because this is a great place for outdoor recreation, yet Ann and I are indoors watching movies."
With only five years until Doug's retirement, the Baiers are beginning to think about life after EMS.
"We've never felt disappointed about our decision to move here," says Baier of the Pacific Northwest. "Sometimes we think about heading back east, but we're pretty happy where we are. We might just stay."

Request product info from top EMS Education companies
Thank You!