How we taught 14,735 people hands-only CPR in a single day
The Bridgeport, Mass. AMR operation trained students in their schools in Mass. and Conn. for the 3rd annual World CPR Challenge
---
By Caesar Rondina
Our team of educators, providers, and operations staff accomplished an incredible feat for the 3rd annual World CPR by teaching hands-only CPR to 14,735 people at schools in Massachusetts and Connecticut in just 24 hours. This is how we did it.
Team effort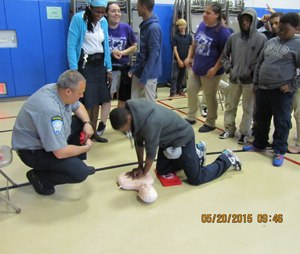 No single person was responsible for our success. It was a dedicated team effort by a great team. One thing 30 years as an educator has taught me, if the planning is perfect, the team will succeed.
We established a CPR Challenge committee, which was led by Aimee Roberts. She was the key element to our success. Our AMR operation also runs one of the largest training centers in Mass. For this year's World CPR Challenge we had over 50 providers, instructors and AMR staff available to us as instructors. We also have a great deal of blow-up CPR manikins, as well as full CPR manikins, which ensured plenty of available equipment.
Leadership support for big numbers and planning
My general manager, Bill Schietinger, and I met and agreed we were dedicated to making large numbers for the CPR challenge. Without his support and guidance we never would have achieved the numbers we did. Aimee and I met weekly, and then bi-weekly, and then everyday one week before the event.
Know the service area and target population
Each operation must know it's service area and where the largest numbers can be obtained for a training event like this. You will not obtain large numbers by going to shopping malls on a weekday. They are busy on weekends, not on weekdays.
Knowing our service area, we knew that to gain large numbers, we had to go where large groups of people gather together at one time. Which for us is schools.
Selling hands-only CPR to schools
We solicited our target audience, schools, with the selling point that children are our future caregivers. Students are out in the world as teenagers and being cared for by grandparents while they are in elementary school.
We identified events, with the help of 911 dispatchers, where a child was credited with saving a life or providing care until the first responders arrived. We used those success stories to market our idea for an in-school training program to school nurses and principals. The training opportunity spread by word-of-mouth because by the time we were halfway through with our marketing the schools were calling us.
Training delivery and reporting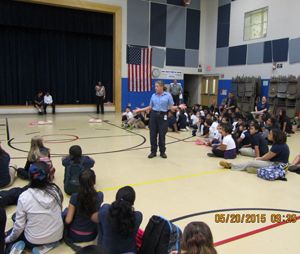 Meg Carey tells students about hands-only CPR before hands-on practice opportunity. (Image Caesar Rondina)
On the day of the event the team leader monitored each location's numbers and needs. Every hour our instructors called into a central location with the numbers of students and others trained. We had people dedicated to move equipment and personnel around the venues as needed. The schools we were at were very impressed with how we worked with them to administer the training, and the kids loved it.
Final thoughts
The planning for our mass hands-only CPR training project started in January. My only mistake I made was underestimating how well it would be received by our EMS providers, instructors, managers, and target audience. We delivered training at 27 schools and next year hope to do more. We have already received calls inviting us back to do this next year.
This was a large undertaking. We had the resources, the equipment, and most of all the support and a team dedicated to succeed.
About the Author
Caesar Rondina is a paramedic and clinical education specialist for American Medical Response of Connecticut.

Request product info from top EMS CPR & Resuscitation companies
Thank You!