How to implement and improve cardiac systems of care
Dr. Tom Rea Emergency Cardiovascular Care Update 2015 opening session challenged attendees to improve cardiac arrest survival in their community
---
SAN DIEGO — The Seattle area has long been known for having one of the best cardiac arrest survival rates in the nation. But in the opening session at the Emergency Cardiovascular Care Update 2015 (ECCU), Dr. Tom Rea, King County Medic One medical director, revealed the agency's recipe for success.
"Science, education and implementation," Rea told the audience.
Rea reflected on the history of resuscitation, arguing that at the ECCU conference in 2002, it was unclear whether much progress had been made in the previous several decades. A few communities had good resuscitation rates, but overall survival across the country and around the globe remained low.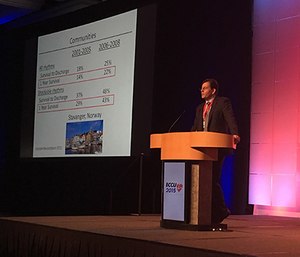 Thirteen years later, though, Rea feels more optimistic. He described improvements in survival rates in places like Wake County, North Carolina, Denmark and Japan. He also pointed to data from the HeartRescue Project, the Resuscitation Outcomes Consortium (ROC) and the Cardiac Arrest Registry to Enhance Survival (CARES) that indicates more people are returning to active lives after cardiac arrest.
While medical science and education are critical, it's the third step — implementation — that really makes the difference between communities that have high survival rates and those that don't.
"That sounds discouraging, but I think it's a reason to be optimistic," Rea said, arguing that every community has access to the science and education, so improving the system of care is possible everywhere.
Memorable quotes on improving cardiac arrest survival rates:
Here are other memorable quotes from the presentation.
"It's performance that makes a real difference, not protocol."
"Everybody survives: That's the attitude, that's the approach. That's not the reality, of course, but it's the expectation."
"I am convinced that it's all about measurement. You need to measure in order to improve."
"It really is remarkable… that anyone survives given the links we have to connect."
Key takeaways to implementing and improving cardiac arrest systems of care:
Rea's presentation had these themes or key takeaways for improving cardiac arrest survival.
1. Performance dwarfs protocol
While using evidence-based protocols is important, there are still wide gaps in success between systems that use the same protocols. Practicing resuscitation and emphasizing the aspects of care most associated with survival are crucial. Reducing pauses in compressions, for example, is something that requires practice and commitment more than a change in protocols.
2. Quality improvement is a must
Without measurement of the things that matter — such as time-to-defibrillation, chest compression fraction, and patient outcomes — it's not possible for an EMS system to know whether it's actually getting better.
3. CPR is the cornerstone
There needs to be an emphasis on chest compressions, from training the community to telephone CPR to the EMS personnel. Without early, high-quality, continuous CPR, a cardiac arrest victim's chance of survival plummets.