Teen dying of cancer inspires Kan. paramedics
Fulfilling a young man's dream to become an EMT is a great and lasting gift to EMS leaders, educators and paramedics
---
Kyle Begin was assigned Sedgwick County EMS (SCEMS) radio number 298 on February 9, 2015. Begin's radio number was retired the next day, February 10 (listen to the final call), to honor his dream of becoming an EMT
"We use these radio numbers as unique personnel identifiers, and eventually they become as common as your name and a part of your signature, a part of your legacy. They serve as verification that you indeed belong and have your place among the EMS family. Today, we will retire his number to honor his dream of becoming an EMT, and he will take his place among those who have gone before him."
Excerpted from "In memory of Kyle Begin," a eulogy delivered by Col. Paul Misasi, Clinical Manager, Sedgwick County EMS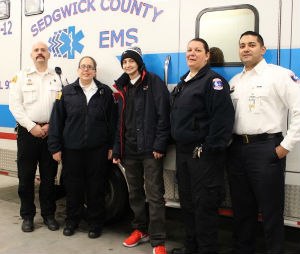 Begin may not have set out to become a hero or make others feel heroic. Yet he had a memorable and inspiring impact on the paramedics he met.
Hospice requests an ambulance tour
Anne Houk, a hospice nurse, reached out to Misasi in early December 2014 about her 18 year-old patient who had a dream of becoming an EMT.
"She asked, 'Would it be too much trouble to bring an ambulance by' so Kyle could talk to the medics and see the truck," Misasi said.
Begin had a diagnosis of Stage IV nueroblastoma, which is a cancer he had suffered from his entire life. Misasi was intrigued by the request and after learning that Begin had no physical limitations he offered to do better than a meet and greet.
"I asked if Kyle would want to do a ride-along tour with a SCEMS paramedic truck," Misasi said.
Joining the Sedgwick County EMS family
Houk discussed the opportunity with Begin and assured approval from his parents. Misasi received enthusiastic support from the SCEMS management team and his colleagues to welcome Begin to the EMS family.
"I'm not member of Kyle's family; but he is a member of mine, of ours. Whether he knew it or not, Kyle joined the EMS family on December 13, 2014, the day he set foot upon Medic 24. And we are a family that is part of a larger brotherhood made up of people who work in the streets, every minute of every day."
On the evening of December 13, Begin, his mother and stepfather met the ambulance crew for a 12 hour overnight tour.
"Kyle wanted to experience EMS so we assigned him to a busy downtown rig," Misasi said.
There were no limitations on Begin and the unit he was assigned. They responded to 911 calls, including a shooting, throughout the shift.
"Medic 24 is one of our busiest trucks. I told the crew they could drop Kyle off at home with a supervisor or at home at any point," Misasi said. "But he rode the whole night."
Begin received a warm welcome from the Medic 24 crew, Captain and FTO Pamula Utter and paramedic Cassie Powell.
"Our ride alongs are usually new employees and students. Kyle was my first non-student," Utter said.
Greg Gering, president of the SCEMS employee association and the honor guard commander was also there to welcome Begin.
"When I met Kyle I was struck by his desire to become a paramedic, despite his diagnosis," Gering said. "He firmly told me he was 'going to paramedic school' when I asked about his goals."
Begin spent three quarters of the night shift with Utter and the final quarter in an EMS supervisor's truck.
"He was excited from the beginning and happy," Utter said of Begin's shift in the ambulance.
In the time between calls, Begin asked Utter and Powell about the job and paramedic school.
"Kyle knew his time was limited, but he was really interested and excited," Utter said.
SCEMS gave Begin a class A uniform badge, SCEMS service patch, and a polo shirt; items which were prominently displayed at the memorial service.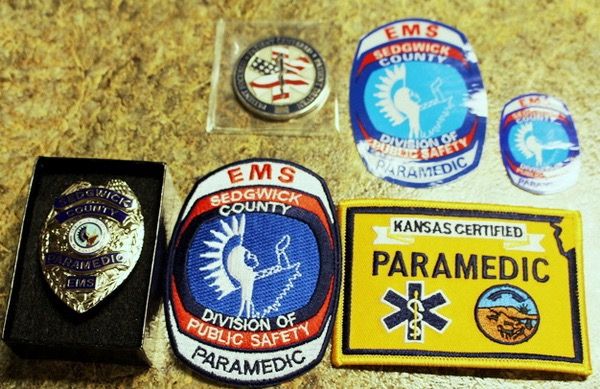 "I saw several of Kyle's friends looking at the badge and patch and overheard one of them say, 'This is the stuff Kyle would not shut up about," Misasi said.
After his initial ride, Kyle rode with Gering and his partner.
"Kyle was all in and eager for more ride alongs," Gering said. "During those rides he asked lots of questions about an EMS career and getting hired. He was thinking long term." 
Becoming a member of the EMS family
Fulfilling a dream to become an EMT is about more than showing up for a couple of ride along shifts. In addition to the field experience and the uniform, Begin needed training.
Gering and the employee association took an immediate interest in Begin's dream to become a paramedic and reached out to the EMT educators at Cowley Community College.
"We made one call to Cowley and they ran with the idea to offer Kyle an EMT course, and SCEMS association members quickly volunteered to help teach," Gering said.
The Cowley EMS education program agreed to do a single student EMT class for Begin, which started in early January.
"We were glad to be involved and to help make Kyle's dream come true," said Chris Cannon, Cowley College EMS program director.
Cowley EMS Instructor Malachi Winters was very aware that there was a time limit to get the course approved and delivered.
"The college quickly approved the course, Malachi donated his time and the SCEMS employee association agreed to pay for any testing-related costs," Cannon said.
The one-on-one accelerated, hybrid EMT course also had the support of the Kansas Board of EMS (KBEMS).
"We absolutely wanted to help Kyle," said paramedic and KBEMS Executive Director Joe House.
With the support of SCEMS, Cowley College and KBEMS, Begin and Winters began working on the introduction to EMS course content. Winters prepared online content for Begin to complete on his own at home and planned face-to-face meetings for skills.
"Our plan was to finish the course in mid-March," said Winters who noted the interest Begin had for becoming part of EMS during their meetings. Begin's health worsened in early 2015 and it became apparent he would not complete the EMT course.
"Unfortunately we were only 2 weeks into the course when Kyle got really sick," Winters said.
Honorary EMT recognition
In early February Houk contacted Misasi with the news that Begin had died.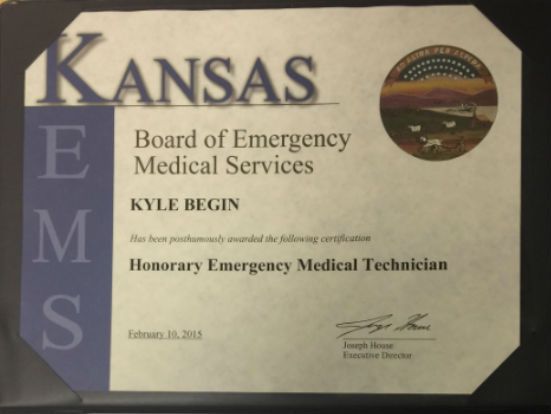 Misasi, Gering, Utter, Winters and Cannon all considered Begin a member of the service and deserving of recognition. Cannon contacted KBEMS to request an EMT certificate. The honorary Kansas EMT certificate, the first ever to be awarded posthumously, was hand delivered two days later to Winters at Cowley to bring to the funeral.
Gering organized, with Begin's family, for the honor guard to represent SCEMS at the funeral. Apparatus lined up outside, the honor guard entered as a group, and Misasi delivered the eulogy.
"Only those who work in the streets know the bond of this brotherhood; you can feel the connection, the camaraderie, with every nod or wave in even the most brief of moments among our brethren. It's what brings us here today. Whether we are partners or familiar in name only, on friendly terms or purposefully avoiding each other; we come together to support one another, because that's what families do."
At the service Winters presented Begin's family with the honorary EMT certificate. A Roll Call certificate from KBEMS, which is a certificate of appreciation that is signed by every member of the state's EMS board, was also presented.
Begin's lasting impact 
Even though his service was short, Begin had an unexpected and profound impact on the paramedics he served with. Gering, a paramedic for more than 20 years, noticed Begin's positive contribution to SCEMS.
"Kyle's life was service," Gering said. "Our interaction with Kyle made a significant boost to morale. It was infectious."
The state EMS office was grateful for the opportunity to assist the SCEMS and Cowley effort.
"Thank goodness this was brought to our attention. Our hats at KBEMS are off to the SCEMS employee association and Cowley," House said.
"Although we didn't have much time to get to know Kyle, because he is one of us, we already knew his heart; we were already connected. To be a paramedic requires a stiff upper lip, the ability to keep your head when everyone else are losing theirs, the patience of Job, and unconditional caring and compassion for all those who suffer the tragedies and frailties of life. From my first encounter with Kyle, these traits were apparent."
"Kyle knew he was dying and all he wanted to do was to serve his community," Cannon said. "It was so worthwhile and exciting for us to help Kyle fulfill his dream."
Begin, because of his illness, grew up around healthcare. Winters believed that EMS gave Begin an opportunity to get involved in caring for others.
"He was very aware of his mortality," Winters said. "EMS is so closely tied to mortality – life and death – and EMS is a fast way to get involved."
SCEMS also benefited from Begin's enthusiastic participation and interest.
"Our interaction with Kyle sheds light on our own trials and frustrations, giving me a different perspective," Misasi said. "Kyle renewed my energy and passion for what I do."
The impact of the time with Begin was a surprise for the crew that he rode with.
"Kyle smiled all night long. He made us appreciate life a little more," Utter said. "SCEMS was a big deal to him.
"Kyle's passion for becoming an EMT, for dedicating his life in service to others has renewed in us the zeal for this work than can become clouded by long hours, paperwork, and many other thankless tasks. Yet even in the face of his prognosis and failing health, he wanted to help others – something that makes our frustrations seem trivial, something from which we can all draw inspiration.
If working as a paramedic has taught me anything, it is that life is beautiful, and life is fragile. I would like to think that Kyle's desire to be a part of EMS was for the same reason that I and presumably many others do - because underneath the lights and sirens, this is God's work; and that somehow, maybe we are saving our own lives.
Godspeed EMS 298."
Final call for EMS 298
Listen to the SCEMS final dispatch for EMS 298.