Telemedicine and EMS: The future is now
It's more than videoconferencing; data is the name of the game
---
Telemedicine systems are used to send and receive live video, voice and patient vital-sign data transmissions primarily in support of heart, trauma and stroke victims. Telemedicine is the interactive exchange of medical information and care from one site to another via electronic communications to reduce risks, improve patients' health status and reduce costs.
Once telemedicine was the word used to describe video-conferencing. Today it is a whole lot more. With current medical devices and advanced communications technology it is now possible to send everything; all the patient data including video, voice, vital signs, ECG, and diagnostics.
Sierra Nevada Corporation (SNC) is a systems integrator and electronic systems provider with 2,500 employees. They build everything from electronics and communications equipment to the new Dream Chaser Space Plane.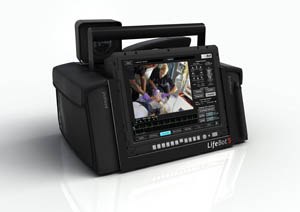 Their Transport Telemedicine or T2 system is a telemedicine solution that captures and communicates critical patient care information. Pre-hospital care providers; ground transport vehicles, helicopters and fixed wing transports can all use the system. T2 is capable of being utilized in both the EMS and military environments.
The T2 system is composed of an intelligent Access Point (AP), radio and network interfaces, patient-connected medical device interfaces, user-entry applications, smart-medicine algorithms and a web-based patient-status portal.
The two main components are the MEDICS software (Medical and Emergency Data Input and Communications Software) and the T2 Access Point. The MEDICS software can run on a wide variety of devices, from tablets to laptops.
The MEDICS software can be adapted for different levels of provider. It can capture and transmit data from a wide range of mobile medical devices. Patient vital signs are always visible and you can even do voice data entry. They offer an in ear speaker and microphone which works even in noisy environments.
It also features communications status indicators. You can 'request' remote assistance and decision support is currently in development. You can also configure it with customer specific external resources like protocols, formularies, and calculators.
The T2 Access Point is adaptable to any current or future radio. It measures 7"L x 4"W x 2"H and weighs only 2 pounds. It has built in 802.11 b/g, AD-HOC mesh networking and the radio interface includes both LOS and NLOS SATCOM.
The T2 Access Point ports include Ethernet, USB, EIA-232, EIA-423, EIA-422/485, and NTSC Analog Video. One of the systems real strengths is security.
In the ambulance it operates on a proprietary closed wireless network. All the transmitted patient information is 256-bit AES Encrypted. Only the receiving hospital can see your data.
Another key feature is data "throttling", which changes the speed of data transmission automatically based on available bandwidth. This allows use of the system even in low bandwidth areas.
2013 could be the year telemedicine in EMS will really start to take off. I have earlier written about another telemedicine system from Lifebot. This year they launched a new ruggedized highly portable model called the Lifebot 5.
LifeBot is a telemedicine solutions company that provides exclusive patented and military developed technologies for healthcare. They have built two basic versions of their system. The first was hardwired into the ambulance.
This version was tested in the field for 6 years by Liberty County Texas EMS. It was the first working telemedicine system made practical for EMS. It uses a proprietary software package called DREAMS (Disaster Relief and Emergency Medical Services).
They have more recently developed a completely portable version called the Lifebot 5. All the components are integrated into a compact 15-pound package that costs under 20K.
The Lifebot 5 will be formally introduced at the national meeting of the American Telemedicine Association (ATA) May 5-7 in Austin, Texas. They have already deployed the first Lifebot 5 systems in North Dakota. Unlike existing instruments, the LifeBot 5 is modular in construction so it may be readily adapted to new technologies or be easily upgraded.
Most often the weakest link in the chain is the ability of a pre-hospital vehicle to maintain reliable wireless data connectivity, The Lifebot 5 operates on cellular system but can utilize multiple cellular providers, e.g. Sprint, Verizon, AT&T, etc., but also integrate 3G, 4G, Wi-Fi, WiMAX, LTE, Satellite, and military data radio.
It automatically manages connectivity and bandwidth in totally transparent fashion. The system analyzes what works and uses it automatically.
Patient data with the Lifebot 5 is securely transmitted using AES encryption. Secure text messaging may also be used to send highly specific or sensitive information "silently".
It offers not only direct transmission of voice and video but complete patient physiologic data, e.g. ECG, 12-lead STEMI, blood gases, ultrasound, e-PCR, EHR, blood pressure, and a lot more.
One system does it all, without the need to cobble together separate products or systems. You can make any ambulance a telemedicine ambulance with one portable device instantly. This can not only provide higher levels of care, but also save money, substantially lower the chances of risks or errors, and save lives.
Most of our EMS communications technology is really pretty primitive. It hasn't changed much in 30 years. We still eat up precious seconds on every call talking through basic vital signs.
If an ICU nurse can glance at a monitor and see all their patients' vital data, why can't an ER nurse do the same on an inbound EMS patient? It would redistribute valuable time, streamline communications, and prevent needless errors.
Then voice communications would be focused on what you did, and on what you need to do next. These new telemedicine systems for EMS are quickly becoming more robust, portable, and affordable. They can and will fundamentally change the practice of emergency medicine.

Request product info from top EMS Cameras & Video Systems companies
Thank You!