Infant 'not breathing' is the start of a 'good day'
Read this excerpt of "City Life" by author, EMT and EMS1 columnist Michael Morse
---
City Life, a collection of Michael Morse's interactions with the people he encounters as an EMT, paints a vivid picture of life in a small city. These are stories of triumph, loss, tedium and hilarity. Inspiring and concise, the book provides insight into life at its most raw and powerful.
"Rescue 1 and Engine 13, respond to 328 Calla St. for an infant not breathing."
Seconds seem like hours. Cars move like dinosaurs on the brink of extinction, sirens and lights ineffective. Gloves go on, mind racing, ghosts invade, I throw them out, the trucks move faster, picking up speed, three minutes pass. Before we stop I'm out the door, mother running, baby in her arms, blue. I take her; she's stiff, burning with fever, rigid, then starts to seize.
Oxygen, assisted ventilations, family screaming, everybody tries to do something, I give out tasks, an IV, keep bagging, need a glucose test, find the history, learn Spanish quickly, I need to know what's going on, get a temp, find out her weight, find a pulse, keep her safe, the seizing continues as if she were possessed.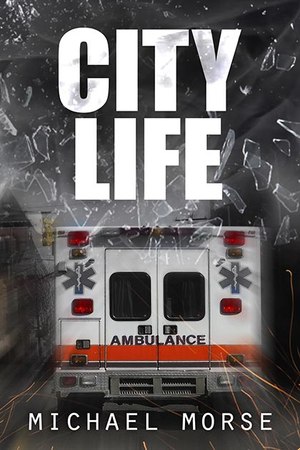 Pulse ox rises, seizing continues, can't get an IV, family hysterical, firefighters busy now, doing their job, Tylenol suppository administered, temp of 104 F, need a driver, call the hospital, tell them we're coming in with an 18-month-old, possible febrile seizure, eta one minute.
Give the crowd that has gathered a thumbs up, look calm, reassuring, I hope, close the door and take the mother's hand, seat her next to the stretcher, let her know it will be okay, seizing slows down, the baby relaxes a little, the truck rolls, calm now, all we can do is done.
Trauma room ready, medical team takes over, struggle for a while with the IV but eventually get one, Broslow tape extended, dosages and medication ordered, bagging continues.
We clean and restock the truck, another child is having a seizure at school, have to go. Twenty minutes, we're back, no seizure, just a kid who took a ball to the face, iced him down, brought him in and checked on the baby who wasn't breathing, she's breathing on her own now, fever down, still bluish but okay, mother cries and hugs me.
Yeah, it's a good day.
Afterword from City Life
Who am I to be witness to such human tragedy, triumph and tedium? Why has my journey led me to other people's emergencies? Why do I love it so?
I honestly do not know. I have been present at the end of a person's struggle for life, watched as their final breath left their body and all I could do to keep it going was not enough, been there at the beginning , when holding newborn whose first breath came in the back of an ambulance in the middle of the night; the middle, when the weight of despair and disillusionment became too much, and the muzzle of a gun ended up in the mouth, sweaty finger on the trigger, body still warm, heart no longer beating.
It is a very private world that I am invited into day after day and night after night. People's worst moments are shared with me, and they look to me for salvation, or at least a way to get them there. I do what I can, help them breathe, stop their bleeding, stop their seizing and make them feel better. Or at least try.
Thank you for reading, and if you ever needed me, thank you for the opportunity.
---
City Life
© Post Hill Press October 15, 2015
Available on Amazon 
About the author
Michael Morse lives in Warwick, RI with his wife, Cheryl, two Maine Coon cats, Lunabelle and Victoria Mae and Mr. Wilson, their dog. Daughters Danielle and Brittany and their families live nearby. Michael spent 23 years working in Providence, (RI) as a firefighter/EMT before retiring in 2013 as Captain, Rescue Co. 5. His books, Rescuing Providence, Rescue 1 Responding, Mr. Wilson Makes it Home and his latest, City Life offer a poignant glimpse into one person's journey through life, work and hope for the future. Morse was awarded the prestigious Macoll-Johnson Fellowship from The Rhode Island Foundation in 2012. He is a popular columnist with The Providence Journal, Fire Engineering, EMS1 and Uniform Stories.

Request product info from top EMT Books companies
Thank You!