New Orleans EMS receives donated active shooter kits
A grant funded by the city's oldest parade organization will provide body armor, ballistic helmets and trauma supplies for EMTs
---
NEW ORLEANS — New Orleans Emergency Medical Services received a donation of six active shooter kits paid for by a $24,000 grant from the Beyond the Parade chapter of New Orleans' oldest parade organization, the Krewe of Hermes.
The new equipment will be used by EMTs and paramedics to protect themselves while delivering patient care in the "warm zone" of active shooter scenes. Eventually, NOEMS aims to have body armor available on every ambulance.
"We need to be putting the lives of the public ahead of our own lives," Cedric Palmisano, the Deputy Chief of Special Operations and Logistics said. "It's a new way of thinking for EMS, but that's the way it has to be."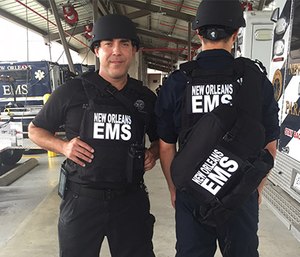 Palmisano, who was an Army medic, worked with 5.11 Tactical to design and equip the bags according to the needs of an active shooter situation. Along with two ballistic vests and two helmets for a team of EMTs to wear, each kit will contain and the following medical and triage supplies:
QuikClot combat gauze
SMART triage and black tags
Chem Lights (green, red, or white)
Bandages and airway equipment
One Cordura litter
Next month, Beyond the Parade will hold another fundraiser to benefit the tactical paramedics who work with the SWAT team of New Orleans Police Department.