Road conditions, overcorrection cause ambulance rollover
The Ohio ambulance was transporting a patient to the hospital; no one was injured in the crash
---
MADISON, Ohio —  An ambulance transporting a patient to the hospital lost control, slid into a curb, rolled over and landed on its roof.
According to the Madison (Ohio) Fire District Facebook page, the ambulance was travelling at approximately 25 mph when ruts in the roadway from previous cars driving on the snow-covered road caused the back of the ambulance to sway. The driver overcorrected to compensate for the swaying, which caused the ambulance to hit the curb and roll.
The ambulance did not have its lights or siren on at the time of crash.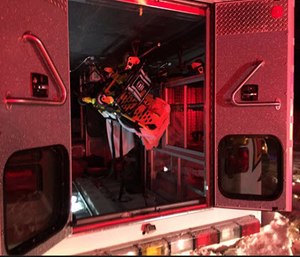 Both firefighter-paramedics were taken to the hospital and were treated and released with no injuries. The patient was uninjured and transported by another ambulance to the hospital. 
The Ohio State Highway Patrol is investigating the incident.