Prehospital CT scans possible with mobile stroke unit
The Excellance, Inc. ambulance allows medics to perform CT scans of suspected stroke patients and transmit images to neurologists
---
MADISON, Ala. — Mobile stroke treatment unit is on the leading edge of specialized emergency response and stroke treatment.
The ambulance allows medics to perform a CT scan on the patient at the scene. The CT scanner transfers the images to the ambulance crews and neurologists viewing the images through telemedicine. Using the prehospital CT scan, images neurologists can advise the medics on treatment in the fastest possible way.
Excellance, Inc. set out to design the functional, efficient stroke treatment unit to fit the needs of the hospital, their medical technicians and their patients.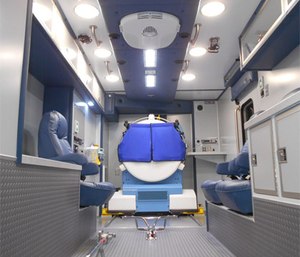 The mobile stroke treatment unit has a 5.5kW generator which is part of a triple redundant 120v on-board power supply. It also features a 3600W true sine wave inverter that powers all 120v outlets and serves as a high-amp battery charger when the shoreline is connected.
The ambulance interior is cooled by a roof top A/C Heat Pump system that operates in conjunction with the vehicle's 12v air-conditioning system, allowing the interior of the ambulance to remain climate-controlled at all times.
Special features in the patient care compartment include a Mobile CT Scanner with tracking system, action area control panel, specialized work stations to the right of the CT Scanner on both sides of the rear interior body, timer/clock, onboard and portable suction system, CAT6 communication outlets and onboard Wi-Fi, 120v A/C outlets and power strips throughout every area of the truck's interior, specialty designed and positioned trash and bio-waste storage and mounting poles for medical equipment.
The truck is equipped with a 64, 000-Lb. capacity leveling system with the ability to bring the truck from a seven degree out of level position to a level position. This leveling system is important due to the requirements of the mobile CT scanner to be level while in operation.
After the ambulance's medics have completed the use of the CT scanner, they can stow the patient to a transport safe position and push the retract button on the leveling system in controls.