Ohio ambulance service owners surprise employees with new equipment
Company owners presented employees with 10 new vehicles, seven new computers, three new power cots and more
---
By EMS1 Staff
GREENVILLE, Ohio — The owners of an Ohio ambulance service surprised employees at an annual Christmas party this past weekend with new computers, equipment and vehicles.
Spirit Medical Transport, LLC, President/CEO Brian K. Hathaway directed guests to a coliseum at the fairground that served as the party venue, where they found an "ambulance sleigh" and large tarps strung across the building.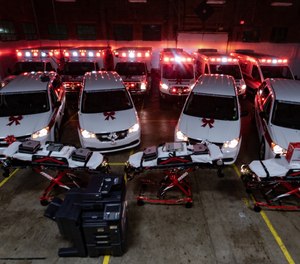 Hathaway then called on different groups of employees to open gifts, after announcing that 2019 had been one of the service's best financial years.
"It's the great people in the office setting that have helped turn the key to the success this past year," Hathaway said. "While there have certainly been hurdles along the way, this team always rises to the occasion and remains focused on meeting or exceeding goals, without ever challenging our purpose, vision, and values."
The company's paramedics opened boxes containing four new patient ventilators, which Hathaway said the providers has been asking for since last December.
The EMTs opened seven new computers, and then "Santa" and his "elves" revealed three new Ferno power cots, capable of lifting patients weighing up to 700 lbs.
From behind the tarps, the company unveiled four new wheelchair vans, drawing cheers from the employees.
The company's EMS instructors received a new copy machine/scanner for the service's new education center, as did the service's HR department.
Finally, an EMT was directed to push a button to open a garage door. When the button was pressed, the door opened revealing three new Medix-brand Fort Transit ambulances, then three Front Line Ford F350 ambulances when it was closed and opened again.
Hathaway finished off the surprise presentation by promising all employees an automatic 5-cent per hour raise each month in addition to regular performance-based raises, as long as they maintained good standing at the company.
Hathaway said only five company employees, two of which are his parents, knew about the gifts and presentation.
"Merry Christmas to each of you and your families," said Spirit Medical Transport Vice President Aaron Guthrie at the conclusion of the presentation. "This has been an amazing year and we couldn't have done it without all of you. Let's now go out and celebrate another great year of success."

Request product info from top Ambulances companies
Thank You!