Automaker converts car into off-road ambulance
The vehicle was developed for a paramedic in England who specializes in off-road sporting events
---
OXFORD, England — A multi purpose vehicle has undergone a makeover to become an off-road ambulance in the UK.
Based on the Rodius EX, which is produced by Korean-based SsangYong, the vehicle was developed for a paramedic in England who specializes in off-road sporting events.
David Marson, of SES Ambulance Services, provides paramedic support at equestrian and other potentially dangerous country sports events, where the need to reach injured competitors or visitors across difficult terrain can present a real challenge.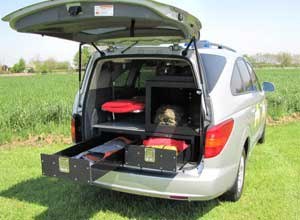 He needed a 4x4 that also had "sufficient interior space to carry even the tallest patient lying down and in comfort, while also providing room for a paramedic to attend to the patient while being swiftly transported away from the scene," according to a press release by the company.
"Having been unable to find what he needed from other vehicle manufacturers, David came to us with a very specific brief, and the SsangYong Rodius EX had all the answers:  4 wheel drive, a low loading area, cavernous interior with a high roof, and critically the length for carrying a patient," said Dean Wood, of SsangYong.
"Working with David and our suppliers we also designed a strong, lightweight and secure storage system for all the equipment needed."
Among the key features of the vehicle are its 4x4 with low range, 2.7 liter diesel engine and swiveling rear seat to give easy access to treat the patient.
"There are many vehicles sold overseas that we wish we could order Stateside," Autoblog reported.
"The SsangYong Rodius isn't one of them. But at least the Korean automaker has found a use for the awkwardly proportioned crossover."