AEDs often inaccessible to bystanders, especially at night
Toronto researchers found AEDs near out-of-hospital cardiac arrests are unavailable in one-fifth of incidents
---
ORLANDO, Fla. — The availability of an AED is a function of its geographic placement as well as its temporal availability, which is the time of day availability or accessibility. Many AEDs are placed in buildings that are not publicly accessible 24 hours a day, making those AEDs unavailable to bystanders.
Researchers Christopher Sun, BASc, and Timothy Chan, Ph.D., University of Toronto, analyzed cardiac arrests that occurred within 100 meters (328 feet) of a public AED in Toronto. They presented their findings at the American Heart Association's Scientific Sessions 2015.
"The overall coverage loss was 21.5 percent," Chan said. "One in five cardiac arrests occurs when a nearby AED is not available."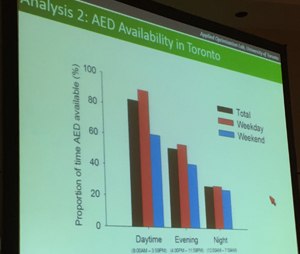 They then analyzed AED coverage of OHCA for more than eight years, according to the time of day and day of week.
"Our analysis is based on 737 unique AED addresses registered with Toronto EMS," Chan said.
When there was no 24/7 access to buildings, researchers found AED coverage was diminished more than:
8 percent during the day.
28 percent in the evening.
48 percent at night.
Most OHCAs in the study (61 percent) occurred during evenings, nights and weekends.
"Temporal availability of AEDs has largely been ignored," Chan said.
AED access was limited in schools, industrial facilities, recreational facilities and offices, while there was round-the-clock access in long-term care and transportation facilities.
Researchers suggest that a building's 24/7 access should be considered when choosing public AED locations, and that this information can be used in a mathematical approach to determine public AED locations that maximize coverage.
Key takeaways on temporal AED coverage
AED coverage loss due to temporal factors is likely a universal problem. Here are four key takeaways on the temporal availability of an AED.
1. Time of cardiac arrest occurrence
In the study area, Toronto, witnessed cardiac arrests and bystander CPR is higher during the night and evening. But this is also when AED availability is most limited.
2. AED availability and bystander use
AEDs are most available during the day. Coverage loss is most significant on weekends, especially outside of the downtown area. When AED loss to temporal availability is highest the bystander use of an AED is lowest.
3. Locations with the most AEDs
Schools, sports facilities and industrial facilities are the most common locations with AEDs and those same locations had coverage loss of 35 to 40 percent. Transportation facilities, likely because they are open 24/7, don't experience any coverage loss.
4. Easiest fix to improve temporal coverage
According to Chan the easiest fix is simply considering temporal availability to improve placement and access. When working with businesses, schools and other facilities, ask EMS leaders for advice on AED purchasing, geographic placement and availability. 

Request product info from top AEDs companies
Thank You!