A Glimpse at Product Offerings at EMS Today - Part 1
---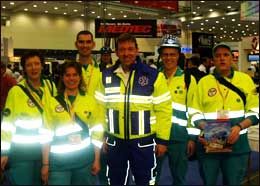 Photo by Dan White
Dan White, center, poses in PPE at EMS Today in Baltimore.
I attended the very first EMS Today conference back when it was in Kansas City. Maybe that's why I've always had a special fondness for this particular conference.
Since its inaugural event, EMS Today has always showcased the most cutting edge advancements in EMS products and technology. This year was no exception -- there were a lot of exciting new EMS products to see from all over the world, some of which were unveiled for the very first time to the public. I love coming to EMS Today because I am always sure to find something new in the exhibit hall.
The biggest display on the exhibit floor was the new Monster Medic patient handling equipment launch. Since this was the first time they rolled out their new company and products, their booth proved to have quite a visual punch. I watched five or six guys spend almost eight hours just putting the booth together. It was the most impressive display I've ever seen in this industry.
There are several devices that really grabbed my attention this year. Respiratory care devices seemed to have a stronger presence this year, with new offerings such as new disaster ventilators, CPAP devices, and even a new oxygen regulator with a pulse oximeter built in.
Several new orthopedic devices made a splash, including a new premium quality vacuum splint and an innovative padded plastic long spine board with a built-in IV pole.
New safety innovations and a host of new patient monitoring devices were on also on display.
Vendors filled the Baltimore Convention Center in the beautiful Inner Harbor district for two full days. Unlike many other conferences where the exhibit hall is only opened for a short time, attendees had long opportunities to tour the booths during carefully arranged breaks between workshops and events.
Looking at the range of products showcased at EMS Today, 2008 will prove to be an innovative year in EMS.
There are many more products and vendors to cover. Stay tuned on EMS1 for Part 2 of my in-depth look at the 2008 EMS Today conference.

Request product info from top AEDs companies
Thank You!