Tenn. county appoints new EMS leader
Rutherford County mayor welcomes new director, Brian Gaither, and thanks former leader Carl Hudgens
---
By Leila Merrill
RUTHERFORD CO., Tenn. — Rutherford County Emergency Medical Services has a new director, Brian Gaither, Mayor Bill Ketron announced Monday.
Longtime Director Carl Hudgens plans to retire from RCEMS in January.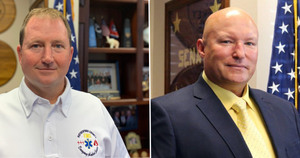 According to a county news release, Gaither is a lifelong resident of the county who began his career with RCEMS in 1996 as an EMT. Later that year, he graduated from paramedic school. In 2007, Gaither was promoted to station manager, and later earned his Bachelor's of Science degree from Middle Tennessee State University in 2011.
"I am extremely grateful for the opportunity to serve my hometown in this capacity," said Gaither. "I look forward to working with our RCEMS team and other public safety departments within the county to continue to deliver gold standard care to our citizens, residents, and visitors."
Hudgens served Rutherford County Emergency Medical Services for 32 years, according to the county.
"It has been a privilege and honor to serve," Hudgens told County Commissioners and Ketron in a letter stating his intent to retire, noting his "end of watch has come."
Hudgens, also a Rutherford County native, was born on a dairy farm. He said he knew from a young age he wanted to be a paramedic. Attributing his interest to the popular 1970s television show "Emergency," Hudgens said, "Mom and Dad let me come home every day and watch the show before milking the cows," recalling that the family television was an old black-and-white model.
Hudgens began his career with Rutherford County in 1984.
"Even though it was a volunteer position at the time, I took my responsibilities seriously and took advantage of all the training and educational opportunities available," he said.
 After completing EMT school, he was hired by RCEMS and soon obtained his paramedic license.
"For me, paramedic school was not easy," Hudgens admitted, "I studied twice as long and requested extra clinicals."
Hudgens was later promoted into a supervisory position as a support supervisor, and around a year later, was promoted to lieutenant. During his time serving in this position, one of his colleagues, a captain, was stricken with an unfortunate illness that would eventually lead Hudgens into that role.
As time moved on and retirements occurred within the department, Hudgens was asked to serve as interim director.
"This was a role with unique challenges that I've never faced before, but I've never backed down from a good challenge." Hudgens said.
He soon took on the role full time.
Over the years, Hudgens witnessed many changes within his beloved county and the ambulance service: "Rutherford County is my home. Many of my family members fought war here … farmed here."
In his early days as an EMT, the county size was the same, but the population was much smaller. "It was not uncommon for calls to come in directly to the station. Often times we wouldn't even need the map — we knew exactly who lived there and who we'd be tending to. We didn't have GPS back then either!"
Hudgens has seen technology progress greatly.
"I remember the time when we actually had to make our own equipment," noting that sometimes splints were made out of catalogs and magazines.
He's also experienced a lot of things he will never forget.
During Hudgens' time as director and particularly through the COVID-19 pandemic, he and his team have made notable strides in protocols and initiatives that have peaked the interest of other counties across the state. The department went over a year without a single positive COVID case internally.
Hudgens also initiated the concept of the county having its own forensic center, a project that he intends to continue being involved in until it is complete.
He would also like to see the department start offering community paramedicine and continues to support the research, development and implementation involved in this.
"I can honestly and proudly say that I have put every ounce of energy, knowledge, and wisdom I have into Rutherford County EMS over the years in an effort to continue our reputation of being the most elite provider in the state," said Hudgens.
"Carl Hudgens has served this county and its citizens and visitors well during his time at RCEMS," said Ketron. "He will truly be missed as a fixture in his department and the county as a whole. We wish him a truly enjoyable season of retirement and extend our sincere gratitude for his dedicated service."