Kan. EMS director placed on administrative leave
Sedgwick County EMS Medical Director Dr. John Gallagher was placed on paid leave as staff members quit and take to social media to talk about issues with leadership
---
By Jessie Forand
SEDGWICK COUNTY, Kan. — On the heels of more provider resignations, Sedgwick County EMS' medical director was placed on administrative leave on Monday.
The Wichita Eagle reported that County Manager Tom Stolz made the decision after two employees quit last week, citing leadership issues as their reason for leaving.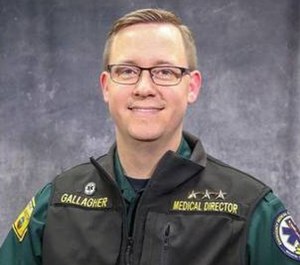 Gallagher was promoted to director in August 2019, despite heavy opposition by staff members, according to the Eagle report. Since then, a third of the department has left, causing ambulance shortages and long response times in the county.  
According to surveys given to departing staff, the majority left because they disliked Gallagher and his deputies, Dr. Carolina Pereira and Paul Misasi.
Misasi and EMS Col. Bill Robben will manage the department going forward.  
RELATED: 'A critical tipping point': Kan. county EMS wait times reach dangerous levels
In April, employees called for Gallagher to be removed from his post after a 2019 case surfaced involving a man who shot himself in the head, who was five minutes from the nearest hospital but not transported for five hours, at Gallagher's direction, despite having a pulse and breathing.
Staff speak out
Sedgwick County EMS Advocates, a Facebook page run anonymously by Sedgwick County EMS employees, was created to provide the public with updates about the lack of ambulance staffing and information about day-to-day operations.
In a Facebook message with the Eagle, the page's moderator said that "several street-level providers wanted to provide a live-time page with publicly accessible information that would otherwise be hidden from the public."

County officials have expressed their confidence in staff as the crisis unfolds. In an email to employees, Stolz said he was hopeful the leadership problems could be addressed and mitigated.
RELATED: 2 more Kan. providers quit amid county EMS controversy
"EMS has provided quality emergency patient care to the residents of this community for over 46 years and I am confident in their professionalism as we try to solve this latest strife related directly to their leadership," Stolz wrote. "Our EMS professionals deserve good leadership from within their department – from the Director down to first line supervisors. We will work through what is best for the EMS department and the organization."