Responding to mass shootings: An EMS perspective
Though they're usually brief, mass shootings can cause ripples of destruction with huge implications for emergency responders, session told at EMS World Expo
---
By Drew Johnson
EMS1 Editor
Mass shootings can happen anywhere — schools, post offices, work places, churches, malls, courtrooms.
In fact, mass casualty events have happened in all the locations listed above. They are not new phenomena — a mass-casualty-shooting perpetrated by a juvenile dating back to at least 1986, according to Ken Bouvier, a New Orleans fire chief and paramedic who presented on mass shootings at an information session during EMS World Expo in Las Vegas.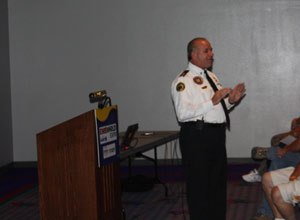 Statistics have shown an uptick in mass shootings, Bouvier said, with blame frequently being placed on the economy, a politically troubled society, and rampant job stress.
Shooters may be mentally ill, as is apparently the case in the Tucson shooting, or they may be motived by their political affiliation, as appears to be behind the massacre in Norway that claimed 93 lives and injured more than 100 people.
Some shooters are simply acting out with violence in retaliation against perceived wrongs, a common occurrence in gang-infested neighborhoods around the country. Or they may be consumed by delusions of grandeur, seeing a violent outburst as their ticket to a few minutes of fame.
Whatever the cause behind a mass shooting, the result is the same: death, injury, and usually chaos.
Lessons for EMS
Bouvier stressed that mass shootings are usually brief incidents; most active shootings are over after 10 to 15 minutes. The perpetrators are usually male, and they often commit suicide, he added.
Though they're usually brief, mass shootings can cause ripples of destruction with huge implications for emergency responders.
In pointing to the incidents mentioned above, Bouvier stressed these common difficulties that responders often face:
There is inevitably chaos after a mass shooting
Scenes are always unsafe; the shooter may still be on the scene or there may be some explosives or other traps laid for responders
Everyone is scared, including family, supervisors, and survivors who have begun flocking to the scene
Because of the inevitable confusion, responders will have a difficult time determining who is a victim, who is a bystander, and who is potentially a perpetrator
The location of a mass shooting is a crime scene, meaning medics must treat patients while also protecting the integrity of the scene
In most instances, there is a lack of control and command
How to prepare
First and foremost, Bouvier said, districts must plan for a mass-shooting type incident. "A safe response requires planning and preparation by fire-rescue, law enforcement, and EMS. Agencies must have mass-shooting plans and must conduct mass shooting drills," he said.
Chaos is a given at a mass shooting, so the more preparation ahead of time the better off the entire district will be after the incident.
Bouvier outlined these tactics for handling mass-shooting incidents:
Wait for law enforcement to secure the scene
If there is an active shooter on the scene, medics must try not to draw attention to themselves if treating patients
If the scene is unsafe, leave
Don't be confrontational if you encounter an active shooter
Wear body armor
Activate your disaster plan early
Activate mutual aid on route
Activate your hospital disaster plan quickly; a simple call to say "We're on scene with at least X number of casualties, many of which are coming your way" is sufficient
Call for disaster supplies early, including blood and tactical EMS resources
Infection control is hugely important and often neglected; part of your system's disaster plan should include designating an Infection Control Officer to ensure that all responders are taking the necessary precautions to
"It's better to call too much mutual aid than too little," Bouvier said, stressing that in mass-shooting situations you must think like the perpetrator, imagining what might happen in a worst case scenario.
He also briefly described the role of SWAT medics, stressing that their job is primarily to focus on treating injured members of their team. Non-SWAT medics will be asked to stay away from the scene and establish a casualty collection base. In very rare occasions medics may be asked to go into a scene to recover a patient while SWAT covers for them.
After the incident
After a mass shooting, family will be hysterical, media will be in your face, traffic and parking will be a mess, the ER will be overcrowded, your phone and cell system will be swamped, and your EMS system will be overloaded. Despite this, you'll still have "regular" patients in your system to take care of.
It's the kind of chaos that takes days to wear off, and it leaves a mark. Mass-shooting incidents leave indelible marks one the communities in which they occur.
Bouvier stressed the inevitable impact on responders after a mass shooting incident, asking, "Will you be able to handle the emotional stress to the community and to the medics who responded to this type of incident?"
"If one ever happens in your community," Bouvier said, "The chief should demand that you sit in on the debriefing to just talk about what happened."
It will undoubtedly be a painful conversation.