David Page discusses the top issues and challenges facing EMS education
The award winning educator, paramedic and author discusses his background and the opportunities in paramedic education
---
Updated August 2, 2018
In 2011 David Page, a longtime EMS instructor and a paramedic with Allina Medical Transportation in St. Paul, Minn., was named "Educator of the Year" by Minnesota State Colleges and Universities Board of Trustees. He was chosen from among the state's 19,000 state and community college instructors.
"Dave Page's work at Inver Hills is the perfect marriage of life and art," Inver Hills President Tim Wynes says. "He brings into the academic setting a comprehensive knowledge of his subject and the practical experience of applying EMS principles in real life, and blends them in a way that elevates his students' learning experience."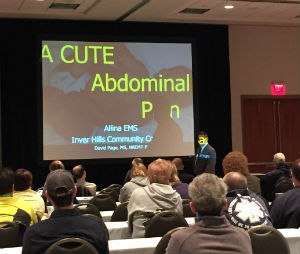 As part of the award process, Page was first nominated by students and fellow faculty and then chosen to represent his college. He submitted a 200-page portfolio describing his teaching philosophy, curriculum, accomplishments and evidence of ongoing professional development and, of course, why he became an EMS teacher in the first place.
"I was a young paramedic who believed high training standards in an academic setting would raise EMS to a new level of professionalism, recognition, and economic reward …" Page wrote. "At the time, my parents (both university professors) believed their son was 'throwing away' his life in a blue collar job. 'It's nice to volunteer on the wagon ... but why don't you go to medical school or law school to make something of your life!' they said. I never did go to medical school. My dream was, and still is, to do exactly what I am doing. To care for sick and injured patients in the uncontrolled out-of-hospital world, and help others learn to do the same."
Born in Mexico City, Page has a bachelor's of arts from Macalester College in St. Paul and a master's of science in experiential education from Minnesota State University. He has co-authored a textbook and contributed to another, written numerous EMS research papers and pens the monthly Research Review column for JEMS. He is also on the board of advisers for the UCLA Prehospital Care Research Forum. And in 2009, he won the "Legends That Walk Among Us" award from the National Association of EMS Educators.
EMS1: Congratulations on being named Minnesota's Educator of the Year. How did you feel when you found out you were a finalist?
David Page: I was very nervous about it. EMS education is a team sport, so I was uncomfortable with highlighting just one person's achievements. We all do a tremendous amount of work, and I got credit for things all of us do all the time.
You've said you started teaching with a lot of field EMS experience but little knowledge of how to be a teacher. What have you learned along the way? 
In 2000, I was fortunate to receive a sabbatical from Inver Hills. Part of my project was to become employed and work as a paramedic in a high-performing EMS system outside Minnesota. This EMS system is recognized worldwide as one of the leaders in EMS care, and I wanted to see if I could pass their entrance tests, but also learn from the inside out what made this a great organization.
With more than a decade of field experience, I was treated like a rookie. The acculturation and hazing in the orientation process for that high-performance EMS system has marked me forever. I still see it as a case in how not to teach. It was more brutal than the work I did years before in El Salvador during their civil war, where I taught EMTs to care for patients under fire and without equipment.
I returned from this experience with a bittersweet taste in my mouth about how EMS can chew up new students and new graduates. Since that time, over the past 10 years, I have worked to be a kinder, gentler and more motivational teacher. My harsh drill-sergeant style has given way to a loving but demanding-of-excellence sports coach.
What's your proudest achievement as an instructor?
There are a few things I'm most proud of. The fact that we are able to graduate students who are taking good care of patients in the field. When I'm working out there on the ambulance and I can see the good work our graduates are doing is the most rewarding. To see them save people's lives and alleviate suffering, to see them do it with courage and honor and risk their own lives.
Personally, a very rewarding project I've been involved with is the Emergency Medical Services Academy. It's a program for low-income youth we've been doing with the St. Paul Fire Department to get more individuals with diverse ethnic backgrounds into EMS so we can be more representative of the cultures we serve. We've taken people in extreme poverty, the children of single parents who were homeless, and helped them get jobs as EMTs. One of our graduates is the only African-American EMT working at his ambulance service.
At Inver Hills, I'm pretty proud of the fact that our program has gained national attention for innovation first in terms of providing a degree, but also for creating FISDAP, a web-based application to track student experience and test critical thinking skills, achievements that help with accreditation. Our program has a near 100 percent pass rate on the National Registry. We continue to share all those tools with the EMS education community.
What is the biggest challenge facing EMS education?
There are a lot of challenges. EMS educators have this incredible amount of information they need to cram into a short period of time and a very high standard to achieve. Whereas in most educational programs students have to know the material to graduate, we have to graduate people who not only know it but can perform the skills and think critically during life-and-death emergencies. While other health professions finish their training on the job or while working in a hospital, we're going to graduate someone who at Day 1 with a certification card is going to be in charge of someone's life. Since employers are often paying for the education, they don't want to pay people to go to school for long periods of time.
You also have students who don't want to pay tuition for two years to get a job that pays less than what they'd make as a McDonald's supervisor. And who can blame them? In the end, the educators are having to balance the high standards set by accreditation and required to perform the job—students have to be able to read EKGs, know more than 60 medications inside and out, be able to analyze a situation and think on their feet—and the incredible amount of information they need to learn in a short period of time.
Do you see any challenges on the horizon?
Yes. Accreditation is a hallmark of a profession when it matures. It says, 'This profession has standards and is recognized by other health care professions.' By 2013, the National Registry is requiring that every candidate for certification graduate from an accredited paramedic program. That means all of the programs out there that want their students to get certified by the National Registry—and most states are following the National Registry—have to meet those requirements. It's a bold move. This is a pivotal moment in our history.
What do individual EMS organizations and their leaders/managers need to do to help people coming out of the education system (i.e., new employees) reach their full potential? Are they doing that? Where are they falling short?
I think employers need to be partners with educational institutions. Too much of the time it's a pointing of the fingers. The employers are saying, 'The educators can't seem to get me the employees I need,' and on the other side of the coin, the educators are saying, 'The employers won't play ball with us to get students the experience they need.'
Employers should cultivate and pay preceptors more or give them education to be better trainers, but they typically don't. Ambulance services think it's the job of the educator to provide the training. My job is to go and beg employers to allow our students the privilege of showing up and learning from their crews. Too many are not willing to let us put them there for the extended time they need to become competent or cultivate preceptors to improve the experience for students, even though those same students are going to be their future employees. Most of the time they won't let us assign them to a specific person. They say, 'Any one of our employees is competent and can be a preceptor,' even though that's not true.
If you could change anything about the EMS educational system, what would it be? 
I would increase the time we have with the students. Another way to get better street-ready paramedics and EMTs would be to have more realistic internships, clerkships or residencies, done in some kind of partnership with the employers. Internships could move to a paid model that occurs after initial certification during temporary "residency-like" employment in teaching ambulances.
We should also have higher educational attainment standards. If you're a nurse or police officer, you are required to have a two- or four-year degree, and you're rewarded financially or with increased responsibilities. In EMS we have this attitude that as long as you have a heartbeat and a certification card, you're the same as anybody else with a card.
That causes us to lose our talent. The folks who have the ability to get degrees move on to become nurses, physician assistants, police officers or firefighters. We need people who have the desire to do research to improve our profession over the long term. We also need to be representative of the populations we serve. I hope we will get better at attracting people who will select this as a terminal degree and want to improve the profession.
What can the educational system do to address the safety issues in EMS? 
We have perpetuated the myths that create the circumstances in which injuries occur. A simple example: In crew resource management in aviation, you rely on team effort and good communication to report on potential hazards. You don't depend on a single individual. But our entire EMS educational system is based on the performance of individuals. That's the way we train them, and that's the way we test them. We're engineered into the system that the team leader, by verbalizing procedures, can have all of these things occur, yet no one is checking to make sure they occur and that they occur accurately and in a timely manner.
We've never taught people to be good team members. If they see a potential error, they don't know how to speak up and respectfully offer a suggestion and an alternate course of action.
We also depend on people's memory. In EMS, it's unacceptable to pull out a checklist to make sure you've done everything you need to do in the heat of battle. You can't even pull out a reference to a drug—that would be a sign of weakness. Compare that to aviation. Remember that plane that crashed in the Hudson? The pilot, even when the plane was going down, was going item by item, asking, 'Have we accounted for this? Have we done this?' Educationally, we engineer the system to fail.