Why EMS is important to the patient's experience
Patient engagement expert defines patient experience and how EMS creation of peak moments with patients and their families can improve patient outcomes
---
BOCA RATON, Fla. — EMS providers have a unique opportunity to obtain information and advocate for patients as they move through the health care system. Pinnacle EMS conference attendees learned about how each patient and their family experiences transitions of care and the role of EMS providers in patient-centered care from Martha Hayward, the Institute for Healthcare Improvement lead for Public and Patient Engagement.
Hayward challenged paramedic chiefs' and EMS leaders' understanding of public and patient involvement in health care by defining patient experience, which is partly identified as how patients feel about their experience. In her role at IHI, she has been involved in numerous improvement efforts and educational programs, helping organizations change the way they approach the provider-patient relationship.
As a breast cancer survivor, Hayward discussed her own journey and how the patient experience can impact the delivery of health care. The importance of EMS and the passion EMS providers bring to their work is very personal for Hayward. Her brother, flight paramedic James Egan, died in a line of duty helicopter crash on Dec. 9, 1991.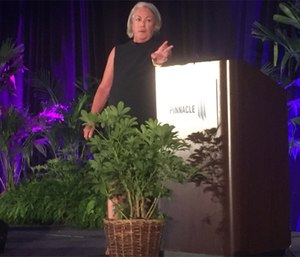 Memorable quotes on listening to patients
A founding board member of the nonprofit Women's Health Exchange, Hayward's experience spans health, politics and education. Hayward is also the Partnership for Healthcare Excellence executive director and is passionate about patient advocacy. Here are memorable quotes from her presentation:
"I am a patient. The problem with health care today is we are not listening to patients."
"We're not asking patients what they really want. We're directing them on paths that are common and comfortable for us."
"We as health care people have the opportunity to prepare patients as they move along to their next step. You can save lives just by communicating well."
Top takeaways on the patient experience
Here are top takeaways from Hayward's thought-provoking presentation.
1. Measure experience through the patient's feelings, perceptions
Hayward broadly critiqued most patient satisfaction surveys as being too focused on objective measures rather than how patients felt about their experience. Patients want to feel trust, empathy, gentleness and caregivers who have joy in their work. 
2. Create peak moments for patients
All people, including patients, better remember and are more impacted by peak moments. EMS providers have one-on-one, personal interactions with patients which are a great opportunity to create a peak moment.
Hayward described one of her own experiences as a patient, after a vehicle collision. She was assured and calmed by an EMT who noticed her interest in gardening, was present with her throughout the ambulance trip and transferred trust to the next set of caregivers at the emergency department, by telling her, "You got the best team."
3. Involve family members in patient care
When family members are involved in care, patients have better outcomes, fewer complaints and less litigation costs. Care is given to a patient, but more importantly, care needs to be provided to the patient and their family.
To illustrate how communication to a patient impacts a patient's wellbeing, Hayward described her anxiety level on the morning of her bilateral mastectomy surgery. That morning, 13 people asked her, "What are you here for?," a common patient safety practice. Hayward offered an alternative way she could have been involved in the process to minimize the chance of error. Health care providers need to look for opportunities to be with patients during their treatment rather than doing things to or for patients. 
4. Ask the patient "What matters to you?"
Hayward closed her talk by sharing the IHI process of using the question, "What matters to you?" to improve the patient experience. Posing this question to a patient has the opportunity to change the clinician-patient experience. She gave several examples of asking this question, including to a patient before surgery or the parents of a child with schizophrenia. The answer to the question, "What matters to you?" can create a partnership with the patient and their family on crafting a care plan.
Learn more about patient-centered care
Hayward described the importance of moments in the health care experience, drawing on the work of Chip Heath and Dan Heath, authors of "The Power of Moments: Why Certain Experiences Have Extraordinary Impact."
Learn more about patient-centered care, patient advocacy and therapeutic communication from these articles and videos.