What Obama's health care bill means for EMS
There are significant opportunities for EMS to fix things that haven't worked in past
---
Editor's note: As part of his role on the American Hospital Association Region 3 Policy Board, Dr. Bill Atkinson was selected by the AHA to serve on a taskforce for health care financing and payment reform. He has made frequent trips to Washington, DC, in the past few months during the health care reform discussions and has provided input to elected officials and their staffs. In this exclusive article for EMS1, the former paramedic outlines how this week's historic health care reforms may impact emergency medical services.
By Bill Atkinson
EMS — especially the field care, transportation, communication and workforce components — is an essential part of the U.S. health care system. However, EMS is often out of mind when the larger scope of the complex system is considered by health care planners.
Even though EMS-related components were only referenced four times in the health care reform legislation, we are well aware anything evoking major change to the overall system will ultimately have a far-reaching impact on EMS and emergency care patients.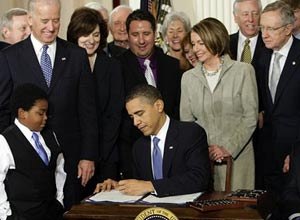 The health care landscape is constantly evolving and changes have already been occurring. Relationships between hospitals and physicians have been strengthening. Hospitals have been consolidating. States like Massachusetts have taken greater steps to insure their population.
Major public and private investments in information technology and connectivity have been occurring. Insurance premiums have been rising rapidly, and there is a growing list of federal and advisory standards on quality, safety, education and community health.
And, hospitals have been creating solutions to ease capacity by opening urgent care centers and freestanding emergency departments. This recent legislation accelerates many of these changes and adds many significant new elements to the mix.
Ultimate goal
The legislation's ultimate goal is to insure more Americans and to make health care more accessible, affordable and higher quality. Thirty-two million more Americans will have affordable access to health care insurance because of this legislation.
In EMS, we are well aware there are "haves and have-nots" when it comes to health care. This legislation should take us far in narrowing the number of "have-nots," but EMS and emergency departments will continue to serve as a primary entrance to the health care system for the remaining uninsured.
Hopefully, the outcome of this legislation will be a smaller, more homogeneous uninsured population making it easier to provide appropriate and timely health care solutions. But even with a growing number of insured patients, the shortage of primary care providers will likewise continue to contribute to a growing use of EMS and EDs as a "front door" to health care in the United States.
The future of the health care payment system will be based on quality and effectiveness instead of quantity. This model will encourage further integration and coordination among health care providers to ensure the patient is receiving the right care at the right time. This coordination will have to happen at all care and service levels, from EMS to rehabilitation.
The legislation should also help distribute the cost of health care more evenly. In today's system, cost shifting is a reality. We are paying for health care delivery in one way or another through our own medical bills, insurance premiums and taxes. This legislation should give us a clearer understanding of what we are paying for and what we are getting for our money.
Ideal system
The ideal health care system will include collaboration, coordination, cost effectiveness, efficiency, proven technology, quality and safety, a reduced rate of growth, scalability, sustainability and transparency.
While this legislation is a step in the right direction, there are elements that will not take effect for several years. And, many of the decisions about implementation will occur at the administrative level, so the final impact at the local, state and national levels is still ambiguous.
The history of the health care reform conversation began with President Teddy Roosevelt in 1912 and will extend well beyond the current administration. This, like most things in life, will evolve over time.
There are significant opportunities for EMS to fix the things that haven't worked in the past, and there are opportunities to make health care better for everyone involved, starting with the patient. Doing the right things — for the right reasons — remains the appropriate focus in EMS and across the health care spectrum as we move forward. 
Dr. Bill Atkinson has a unique perspective on health care, and his career began as a member of North Carolina's first paramedic class. He remains passionately involved in emergency medical services and public health issues and is routinely tapped to lead in the areas of education, workforce development, emergency and disaster response, gang control and health care delivery. He is the president and CEO of WakeMed, N.C., Health & Hospitals and serves on the American Hospital Association's Task Force on Health Care Financing. Dr. Atkinson earned a doctorate in public policy and also holds master's degrees in public health and public policy; additionally, he's a graduate of the Executive Management Program of Yale University.