Pa. EMT follows country music dream
Gina Miller co-wrote a tribute single, Tree of Life, to acknowledge the unsung heroes of EMS who died in the line of duty
---
LANCASTER, Pa. — Gina Miller's music career has been interrupted by traumatic experiences including surviving three serious-injury auto accidents and deaths of close friends and mentors.  
It is these encounters and more that have driven this school nurse and blossoming country music singer/songwriter to release new music debuting in her sophomore EP, Angel from Montgomery.
At 50, Miller is not the typical emerging music artist. She is also a Registered Nurse, former EMT for nearly 30 years, wife and mother of two adult children.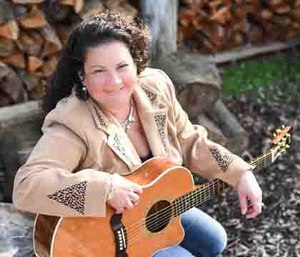 With Lady Antebellum influence and a cross-over modern style, her music career was shaped by the late producer John Stoecker and popular independent music consultant Tim Sweeney. Vehicle accidents in 2009, 2012 and 2014 left her with chronic pain and memory loss. While these painful experiences halted her career, they didn't prevent her from realizing a life-long dream to sing and perform.
Last year, the Lancaster, Pa. native signed with legendary producer Jack Gale and his independent Nashville label Playback Records. Her new four-song Angel from Montgomery EP follows her first eight-song compilation titled Faded Footprints. The new EP features originals such as Smitten and Breathless and cover music including the 1971 single Angel from Montgomery, originally written by John Prine. Miller's version is currently being played by radio stations across the country.
"I like to create and sing songs that tell a story and move people," explained Miller. "My music is about no regrets and inspiring others to follow their dreams no matter how big or small. I want listeners to feel the love and power of the words in a song. Music is about forgetting things that hurt and remember those we love in a song."
Music and medicine have always been a part of Miller's life. As an EMT, she has performed at several EMS memorial services across the country, including at the National EMS Memorial in 2009. Miller co-wrote a tribute single -—Tree of Life — to acknowledge the unsung heroes of the EMS who died in the line of duty.
Miller is also an advocate for missing people and a regular part of The Squeaky Wheel Tour, an annual concert series created by nonprofit GINA for Missing Persons FOUNDation to raise awareness of people who mysteriously disappear each year. She advocates for Toni Lee Sharpless, a young mother and fellow Nurse that disappeared from Philadelphia in 2000. 
Although Sharpless has never been found, Miller continues to promote her story hoping that one day she will be returned to her loved ones. Miller co-wrote Missing Piece, a tribute single to all the family members and friends of a missing person.
Miller's band — Gina Miller & Division Highway — features drummer Brian Yocum; guitar/vocalist Steve Walker; and bass/vocalist Eldon Zimmerman.