Notes from NEMSAC
The National EMS Advisory Council offers updates on EMS issues from roadway safety to ET3 and COVID response
---
The National EMS Advisory Council (NEMSAC) recently met to offer updates on key EMS issues. NEMSAC, established in April 2007, is a nationally recognized council of EMS representatives and consumers, and provides advice and recommendations regarding EMS to NHTSA in the Department of Transportation and the members of the Federal Interagency Committee on EMS (FICEMS).
NEMSAC provides a forum for the development, consideration and communication of information from a knowledgeable and independent perspective. NEMSAC does not exercise program management or regulatory development responsibilities and makes no decisions directly affecting the programs on which it provides advice. Below are the highlights from the two-day virtual meeting:
New leadership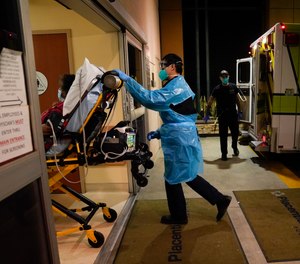 Following a long selection process for the new 2022 NEMSAC Board, the meeting got underway with the unanimous election of a new chairperson, Mary Ahlers, MEd, BSN, ACP, NRP, EMSI, representing EMS educators. Ahlers serves as clinical coordinator for the University of Cincinnati Medical Center Air Care & Mobile Care.
ET3: Behind schedule
NHTSA's Office of EMS staff reported that the fully expected start to ET3 by all enrolled organizations has not occurred. Organizations reported an inability to implement the model required by Jan. 1, 2022, due to local difficulties faced as a result of the COVID-19 Public Health Emergency. The ET3 participation agreement was amended and issued in December of 2021 to give participating agencies greater flexibility and additional time to develop capabilities for transporting patients to an alternative destination.
Department of Homeland Security
DHS is forming an Office of Health Security aimed at consolidating medical resources and personnel under a single mission to provide oversight and management of the department's health initiatives and requirements.
United States Fire Administration
USFA continue to work with partners on the COVID-19 response and is continuing its COVID-19 special study that has over 15 million incidents entered, and examining and updating documents related to pandemic response, expected to be released soon. USFA will also shortly be releasing publications on EMS safety; alternative funding for EMS, fire and EMS responder safety; and EMS vehicle safety. USFA is also studying firefighter suicides.
NEMSIS
NEMSIS has updated its data use agreement to include updated information from HIPAA controlling the release of geographic identifiers, injury and disease surveillance, and access to zip code or surveillance systems
National Roadway Safety Strategy
The National Roadway Safety Strategy was released in January of 2022. One component of the strategy focuses on a safe system approach in the post-crash timeline for which public comment and input are currently requested. New OEMS Director Gam Wijetunge noted that "Roadway deaths are both unacceptable and preventable, and the only acceptable number for roadway fatalities is zero." The safe system approach provides six key principles:
Death and injuries are unacceptable
Humans make mistakes
Humans are vulnerable
This is a responsibility shared
Safety is proactive
Redundancy is critical
FICEMS COVID-19 response white paper  
The Federal Interagency Committee on EMS (FICEMS) is also working on a COVID-19 related study intended to examine how EMS and 911 organizations have addressed challenges in the pandemic. Additionally, the project is seeking to work with the 911 community to develop and prioritize planning and response activities to better prepare the community for the future. The white paper should be distributed to the 911 community this summer.
Equitable Patient Care Sub-Committee
The committee reported that it is preparing an advisory note on the reduction of social inequities in response to out-of-hospital cardiac arrest. The committee noted that there is evidence of disparities in outcomes of cardiac arrest throughout the country and people of color have worse outcomes than comparative groups. A second advisory will look at the inequities in outcomes and inequities in patient care based upon population density, and urban and suburban areas versus rural and frontier areas.
Integration and Technology Sub-Committee
The committee noted that in the last 24 months, there had been 93 public safety cyberattacks. The committee created an advisory addressing cybersecurity risks as these incidents impact the whole chain of survival from 911, to EMS responders, to the hospitals.
Ambulance patient offload times
The committee discussed ambulance offload issues and the considerable delays experienced by crews during the height of the pandemic. It was recommended that NHTSA compile and make available patient offload times and form a panel of subject matter experts from stakeholder groups to make recommendations.
Third Revision of the Model EMS Clinical Guidelines
Funded by NASEMSO and through the Office of EMS, Version 3 of the Guidelines, like the original version released in 2014, was completed by a team of EMS and specialty physicians comprised of members of the NASEMSO Medical Director's Council and representatives from six EMS medical director stakeholder organizations. In addition, a team of pediatric emergency medicine physicians, pharmacologists and other technical reviewers reviewed all guidelines.
Sustainability and Efficiency Sub-Committee
The committee discussed, what it described as, an EMS Bill of Rights recognizing EMS as an essential service with EMS funded through various components, not just healthcare reimbursement, but covered by funds that currently cover tasks we deliver, such as our public safety and health, disaster response mitigation and healthcare missions. The discussion also centered on having mechanisms to help fund clinical upgrades, new medications and newer modern equipment.  
Sub-committee member, Jon Washko, said that EMS needs "a violence-free workplace, well-educated staff based upon the role they are playing and educated leaders who can develop people underneath them, as well as provide a culture engagement that providers are going to work in and ultimately make organizations best places to work."