National EMS Memorial Service Weekend honors fallen
For many of the families who attended, this Memorial Weekend was the final step in their journey toward closure
---
Drew Johnson
EMS1 Editor
COLORADO SPRINGS, Colo. — Hundreds of family, friends and supporters gathered Saturday during the National EMS Memorial service to honor 43 EMS providers who have died in the line of duty.
The family and friends of all the inductees filled the pews at the First Presbyterian Church to honor those they'd lost. During the ceremony, the family of each provider was presented with an American Flag that has flown over the Nation's Capital, a medallion, and a white rose.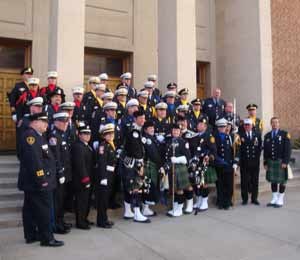 The name, agency, and date of loss of each of the fallen were engraved on a bronze oak leaf on the "Tree of Life."
Kevin Agard, Public Information Officer for NEMSMS, said that, for many of the families who attended, this Memorial Weekend was the final step in their journey toward closure.
"Ours tend to be the last memorial the family gets," Agard said. "It's usually after their local and state ceremony."
Jules Scadden, an EMS1 contributor and paramedic from in Northwest Iowa, read the names of the 43 providers who were honored during the ceremony.
"It was very emotional, and I was so honored to be asked to read the names," Scadden said. "The ceremony was moving in ways that you really can't describe."
The ceremony was especially moving for Scadden, who had a colleague who fell in the line of duty last year. Sheryl Stoolman, of Carroll, Iowa, was killed in an ambulance crash on May 13. "It was very emotional to meet her family," Scadden said.
The service was just one part of the Memorial Service Weekend, which began on Friday with a Memorial Bike Ride from Littleton Colorado to Colorado Springs.
The Memorial Service held a family breakfast on Sunday morning during which families of the fallen had a chance to go up and tell stories about those who were lost. "Some were very humorous," Scadden said. "It's laughter through tears."