Hero of the Week: EMS providers sing to scared child
After a scared child arrived at the hospital, the clinical manager saw all three "gathered around the gurney and serenading the little one"
---
SANTA CLARA COUNTY, Calif. — It's often the little things that matter the most, and we love hearing stories about EMS providers going above and beyond to deliver the best patient care – especially when kids are involved.
In this case, Santa Clara County Ambulance EMT Steven Knight, paramedic Aaron Kruse and WestMed College EMT/paramedic intern Daniel Jones transported a pediatric patient to a busy emergency room at El Camino Hospital.
While waiting for a bed to be prepared and for the parents to arrive, the child became "quite frightened," according to the clinical manager at the hospital.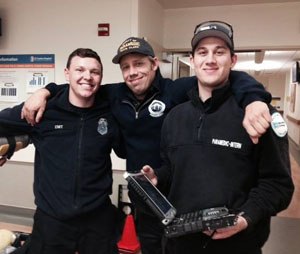 Moments later, she heard singing from behind the curtain, and opened to reveal all three providers "gathered around the gurney and serenading the little one."
We'd like to recognize their outstanding job by naming all three our EMS1 Heroes of the Week.