EMS 'stars' recognized for efforts in DC
During the event, honorees toured the nation's capitol including the Pentagon
---
By Janet Smith
In its 19th year, the American Ambulance Association welcomed and honored 77 "Stars" for the 2010 Stars of Life event earlier this month in Washington, DC. The 77 Stars represented 24 states and the country of Trinidad & Tobago.
This event is meant to honor each Star for their individual contributions to their communities and their profession; this year's class of Stars, like all EMS professionals, are an integral part of our nation's public safety and public health network.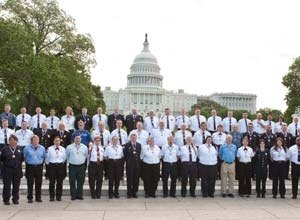 During the event, the Stars toured the nation's capitol including the Pentagon, spent time socializing with EMS industry professionals from all over the country, met with their Congressmen and had a group photo taken on Capitol Hill.
"It was just wonderful, they (the legislators) were so nice, so complimentary," said 2010 Star of Life Vanessa Alcocer, of Life Ambulance in El Paso, Texas.
Tammy Krenisky, of Community Care Ambulance in Ashtabula, Ohio, said, "Today, meeting with the Senators and their staff members — that's what did it for me. It was just getting to know everyone involved, I had such a good time."
Banquet highlight
The highlight of the week's events was the Stars of Life Banquet. This was truly the night for the Stars to shine and for the guests and hosts to honor those who serve our communities. Many EMS industry leaders attended the banquet as invited guests and to share in the celebration. Senator Patrick Leahy (Vt.) and Congressman Richard Neal (Mass.) attended the event to accept the American Ambulance Association's Legislator of the Year awards for the Senate and for the House of Representatives.
The banquet began with the Presentation of Colors by the United States Army Color Guard. The evening progressed through a number of musical numbers by Mrs. Octavia Yates, the AAA President address, a video presentation and of course the reading of the Stars' individual accomplishments as each of the 77 Stars rose and accepted an engraved award commemorating their successes.
After the names had all been read, all of the Stars, guests, hosts and sponsors joined in applauding the 2010 class. The applause echoed throughout the ballroom followed by rounds of congratulations, hugs and handshakes to all of the stars from their new friends.