EMS Pioneers: A Minnesota medic marks 40 years in EMS
John Dillon still rides a regular shift for his hometown squad four decades after serving as a volunteer while still in high school
---
When the Woodbury, Minn., fire department needed volunteers in 1978, John Dillon was ready to serve.
"I grew up in the Johnny-and-Roy era," says Dillon, then a 17-year-old EMT. "'Emergency!' was my introduction to EMS. I drank the Kool-Aid about saving lives and couldn't wait to get started."
There was just one problem: John was still in high school. "The fire department had special rules for me," he says. "I wasn't allowed to respond after 11 p.m. or during classes. And I couldn't do much in the field until I was 18." That's when he saw his first major trauma.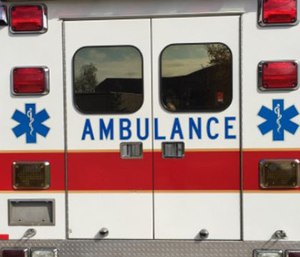 EMS for real: Trauma, cardiac arrests
"There had been a crash overnight on Highway 94," Dillon recalls. "When the fog lifted, you could see two cars in a ditch. My patient (an adult female) was unresponsive. I wasn't sure what was going on with her, other than being hypothermic.
"We went to Regions Hospital in St. Paul. In those days, you'd bypass the ER and bring trauma cases like her to Room 10, where they'd operate right away. I don't know how she made out, but I was thinking the whole thing was pretty cool."
By 1980, Dillon felt ready to upgrade. "Although ICU nurses were still handling some ALS calls, paramedics were starting to evolve." That was reason enough for John to sign up for Century College's medic program. He was still in training when he encountered his first cardiac arrest.
"I was working for a small hospital (ambulance service) across the river from Woodbury," he says. "A call came in for a fire standby in South St. Paul. None of the paramedics wanted to go, but I was pretty gung-ho, so they gave me a van, an EMT-I and a Lifepak 5. About a block away, we were told it's a cardiac arrest – a kid.
"We got there after they pulled her out of the fire. She was about eight and still pulseless. I knew I was in way over my head, and my EMT had no experience whatsoever, so we just put the patient in the ambulance and rushed her to the hospital, about eight blocks away. She didn't make it.
"About a week later, I was talking to my dad about the call and started crying. I was afraid I'd killed that little girl. It took years for me to realize she was dead before we got there and there's nothing we could have done about that."
EMS education: Worth the effort
After graduating as a paramedic in 1980, Dillon left Woodbury and settled in nearby Dakota County, where he spent 25 years in EMS. Officially, he was doing 911, but he also got involved in teaching. "I learned the importance of keeping the material fresh," he says. "Rather than cover the same stuff the same way each time, I'd try to reinvent it.
"Instructors can get lazy. Give us a set of ready-made PowerPoint slides and it's tempting to just go through the motions. Being a good teacher takes work." So does starting your own business, which is what Dillon did in 2003.
"I was riding part-time as a paramedic for the city of Woodbury," the 57-year-old remembers. "Meanwhile, I'd developed some teaching tools for first responders." Those games and quizzes became the basis for C3 SoftWorks – John's company. Suddenly, he was as much an educator as a paramedic. He started to see college degrees as important components of career development – even in EMS, where "book learning" is often considered less valuable than experience.
"I wish I'd gotten a degree," Dillon says. "It's a stepping stone. It might not seem that way when you're on an ambulance, but you never know when it'll help you move up in the world.
"Some services already require two-year degrees. Four years gets you even more flexibility – enough to leave EMS altogether and pursue other careers, if you like. Not everyone wants to spend life as a street medic."
Finding the right fit in EMS
After four decades of EMS, though, John is still most comfortable doing 911 response. He sold his software company and is working full-time at Woodbury, which now groups police, fire and EMS within a single paid department. He says he's going to "ride that wave" as long as he can.
"I've always liked the responsibility of patient care. At our 30-year high-school reunion, guys were telling me, 'You were the only person in school who knew exactly what he wanted to do, and you're still doing it.'"