AMA honors former Pelosi senior policy adviser with government service award
"Wendell Primus has been at the very center of virtually every major health and welfare bill" said AMA Board Chair Dr. Sandra Adamson Fryhofer
---
By Leila Merrill
EMS1
WASHINGTON, D.C. — The American Medical Association presented Wendell Primus, Ph.D., a senior policy adviser on budget and health issues to former U.S. House of Representatives speaker Nancy Pelosi, with the AMA Award for Outstanding Government Service on Wednesday.
Primus has been a public servant with more than 40 years of service. He worked in the U.S. House and with former President Bill Clinton's administration.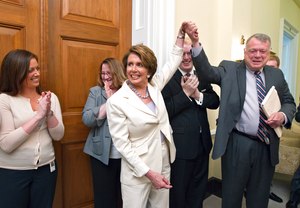 As a former adviser to Pelosi, Primus successfully led the legislation to address the COVID-19 pandemic with funding to keep physician practices open and protect public health.
 "For nearly 20 years with Nancy Pelosi – a lifetime in Washington – Wendell Primus has been at the very center of virtually every major health and welfare bill that's moved through Congress," said AMA Board Chair Dr. Sandra Adamson Fryhofer. "Key to drafting and passing the ACA, essential to repealing SGR, and absolutely vital to the formation and passage numerous COVID-19 bills that expanded health care coverage and provided relief to physician practices, Wendell has shown time and time again that he can build bridges and, even in a divided Washington, get projects that have stymied others across the finish line. It is an honor to present him with the AMA Award for Outstanding Government Service."