Air Force medic helps deliver wife's baby
EMS crew who arrived on the scene thought Travis Shaw was a paramedic from another fire station, not a dad who happened to be trained to help
---
By Jane Hammond
The Daily Press
HAMPTON, Va. — Air Force Master Sgt. Travis Shaw didn't expect to need to use his medical training last month for an emergency situation in his own house.
It wasn't a gunshot wound or amputation like he's prepared to deal with in his job as a pararescue specialist assigned to Air Combat Command, headquartered at Langley Air Force Base in Hampton — it was the birth of his daughter.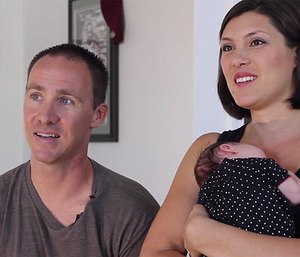 Shalina Shaw and her husband Air Force Master Sgt. Travis Shaw, a pararescue specialist at Langley, delivered his daughter Clara Elise Shaw three weeks ago inside their home in what seems to have been quite fast and dramatic birth.
Shaw helped his wife, Shalina, deliver their now 3-week-old daughter, Clara Elise Shaw, on the floor of their home in Hampton on Aug. 9.
"(Pararescue specialists) are more inclined to be trauma specialists, so that's my bread and butter, and I'm actually very comfortable with that," Travis Shaw said. "I think most (pararescue specialists) would say that they're probably a lot more comfortable treating somebody that's had two legs blasted off rather than delivering a baby.
"I've had a little bit of OB-GYN experience when I was going through paramedic training, but that was about 10 years ago, so I hadn't really seen that for a while," he said. "But it's funny how it all comes back to you, so I feel real fortunate that the Air Force has given me the opportunity to have all that skills and knowledge. It definitely came in handy here."
The day Clara was born, Shalina Shaw was experiencing sporadic pre-labor contractions, and Travis Shaw decided to only work about an hour so he could be home to help his wife. When the contractions became stronger, Travis Shaw rushed bags to the car as the two prepared for a trip to the hospital.
"I went up and brought her down the stairs, then literally we stopped right here," Travis Shaw said, gesturing to the hardwood floor just at the foot on the stairs. "Got right here, and that's as far as we got. She said it's coming right now."
"And she came right out," Shalina Shaw said Thursday, bouncing Clara in her arms.
From there, Travis Shaw's instincts kicked in – about 20 percent of his mind was in "Dad-mode," but the rest was on the medical task at hand.
"First thing I saw was that her head was crowning, and she pushed her head out," Travis Shaw said. "And there was upside down baby Clara staring me in the face. I said, 'Push again, give her another push,' and she came right out."
From the time Shalina's water broke until Clara was born, only about 10 minutes passed. Their son, Nolan Shaw, 3, looked on and today talks about the time that his baby sister "popped out of Mommy."
Travis Shaw called 911 as his wife was in labor, but everything happened so fast that they didn't come until Clara was born.
Once EMS arrived, Travis continued as his training dictated. He barked orders and grabbed oxygen and suction to help Clara cry a bit more, as she was pretty quiet when she was born due to some mucus in her airway. The crew thought he was a paramedic from another fire station, not a dad who happened to be trained to help.
"I felt completely comfortable with how it happened, knowing that he has the medical background that he has and the abilities to assess the situation and make sure everything's all right," Shalina Shaw said.
Travis Shaw said some of his colleagues weren't sure how they'd handle themselves in similar circumstances.
"No problem with multiple gunshot wounds or bilateral amputees," Travis Shaw said. "But delivering babies? Not so much."
Copyright 2016 the Daily Press