Admiration, respect for caregivers everywhere
Take pride that our work as caregivers is connected to the medics caring for injured children in Syria and other war zones
---
Over the years I have made claims about the occupational hazards facing EMS providers. Bloodborne pathogens, violence, ambulance crashes and the myriad of musculoskeletal injuries suffered from every day lifting and moving are part and parcel of field care medicine. Even as the industry works to improve workplace safety, EMTs and paramedics continue to face career-ending events on a daily basis.
Then, a video of a little boy spreads through the internet over the weekend, and it puts things into perspective.
The boy was just pulled from the remains of his home in Aleppo, Syria after it was hit by bombs. A rescuer is seen carrying the child from the wreckage into the back of an ambulance. The rescuer places the boy in the jump seat and goes back to help rescue others. The child is mute and appears dazed. His head is bloody and his clothes and body are covered in concrete dust.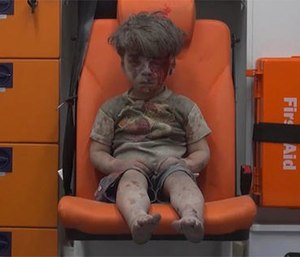 It's very hard to fathom what it must be like to be a civilian EMS provider working to rescue victims of war. Mainstream media often romanticizes or overly dramatizes the working conditions of a war zone.
The simple fact is the work is not romantic or dramatic. It is ugly, hard and gruesome. A civil defense group known as the White Helmets has been a large part of Syria's EMS and rescue system in antigovernment held territories since the conflict began. Funded by various outside agencies, the group has reportedly lost 134 of its own members during the fighting. The group members are apparently targeted by opposing forces as they attempt to rescue civilians.
In the U.S., we get understandably anxious and upset when we have to deal with the occasional carnage of violence and the rare mass casualty event. I'm not sure if I can begin to understand what it feels like to respond to such incidents on a daily basis. It's no wonder that most veteran combat medics or corpsmen rarely talk about their experiences in active war theaters; and the constant threat of being killed for doing your job is the stuff of nightmares and post-traumatic stress.
Mind you, I am not choosing a side in the conflict. I don't have to agree or disagree with the political aspects of the conflict in order to admire and respect those who unquestioningly respond to the call for help, even at great peril to one's own life.
I'm proud that in some small way, my work is connected to theirs even though we are literally worlds apart both geographically and ideologically. Just as it is with my fellow EMS providers at home, I hope and pray for their physical and emotional well-being as they do the best they can.