WHO, World Bank Group unveil 'Global Preparedness Monitoring Board
Infectious disease monitoring expanded amid Ebola Outbreak in the Congo
---
By David E. Hubler, American Military University
The World Health Organization (WHO) and the World Bank Group have launched a new organization aimed at strengthening global health security.
The new Global Preparedness Monitoring Board (GPMB) will tackle outbreaks, pandemics and other health emergencies "through stringent independent monitoring and regular reporting of preparedness," the WHO announced.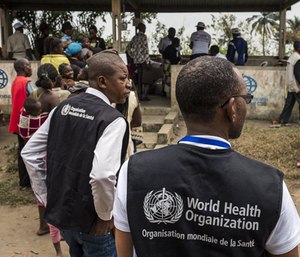 WHO Director-General Dr. Tedros Adhanom Ghebreyesus and World Bank Group President Dr. Jim Yong Kim announced the initiative at the start of the 71st session of the World Health Assembly.
What the Global Preparedness Monitoring Board will do
The Board will monitor emergency preparedness across national governments, UN agencies, civil society and the private sector. It will report annually on the adequacy of financing; progress on relevant research and development; and the strength of health crisis preparedness at the global, regional and national levels.
Building on that annual report, the Board will advocate at the highest levels for health crisis preparedness. It will ensure that all stakeholders, at all levels and across all sectors, keep these issues on the political agenda and are held accountable for making the world better prepared to respond to outbreaks and emergencies with health consequences.
Dr. Gro Harlem Brundtland, Global Preparedness Monitoring Board co-chair, added, "With the current Ebola outbreak in the Democratic Republic of the Congo reminding all of us of the West African outbreak of 2014-15, the importance of being prepared for and resilient to health crises has never been clearer."
Dr. Brundtland, a former Prime Minister of Norway and former WHO director-general, added that although the last two years of progress in improving our ability to respond to such events is encouraging, "gaps remain – and it is time to stop talking about them, and start addressing them."
The Board's Secretariat will be housed at WHO headquarters in Geneva, Switzerland.
Latest outbreak of Ebola
"The ongoing Ebola outbreak in the Democratic Republic of the Congo [DRC] is a stark reminder that outbreaks can happen anywhere, at any time," Dr. Tedros said in the WHO news release.
"Part of being prepared is having a means of assessing progress made at all levels, by all actors, identifying gaps, including in financing, and making sure all actors are working together, pulling in the same direction," he explained.
In an effort to stem the current Ebola outbreak in the Congo, WHO is backing a Congolese government effort to vaccinate high-risk populations against Ebola virus disease (EVD) in the affected health zones.
Ebola continues to remain a problem in the Congo
As of May 27, the DRC reported 35 confirmed cases of Ebola. Thirteen of them are considered probable cases and eight are suspected Ebola cases, George Dvorsky reported for Gizmodo. About 56 cases of hemorrhagic fever, a primary symptom of the disease, have also been reported.
This is the third Ebola outbreak in the DRC in the past five years and the ninth since 1976 when the disease was first identified.
'Ring Vaccination' Program Underway
The Congo Ministry of Health, WHO, Medecins Sans Frontieres (Doctors Without Borders), UNICEF and other key healthcare partners are implementing a "ring vaccination" with the yet to be licensed rVSV-ZEBOV Ebola vaccine.
A ring vaccination program includes anyone who has been in contact with a confirmed case of EVD and secondary contacts of the initial contacts.
Front-line healthcare workers and other persons with potential exposure to EVD – including but not limited to laboratory workers, surveillance teams and people responsible for safe and dignified burials – are also receiving the vaccine.
More than 7,500 doses of the rVSV-ZEBOV Ebola vaccine have been sent to the Congo for the ring vaccinations in the northwestern Equator province. Four confirmed cases occurred in Mbandaka, the provincial capital with a population of over one million people. Most of the other cases were reported in Bikoro, a remote rural town in the province.
WHO Unveils Its Future Plans for World Health
Closing the World Health Assembly on Sunday, Dr. Tedros said that everything that WHO does going forward will be evaluated in the light of the "triple billion" targets approved this week in WHO's new five-year strategic plan.
By 2023, WHO aims to achieve the following:
1 billion more people benefitting from universal health coverage.
1 billion more people better protected from health emergencies.
1 billion more people enjoying better health and wellbeing.
About the Author
David E. Hubler brings a variety of government, journalism and teaching experience to his position as a Quality Assurance Editor at American Military University. David's professional background includes serving as a senior editor at CIA and the Voice of America. He has also been a managing editor for several business-to-business and business-to-government publishing companies. David has taught high school English in Connecticut and at Northern Virginia Community College. He has a master's degree for Teachers of English from the University of New Hampshire and a B.A. in English from New York University. David's 2015 book, "The Nats and the Grays, How Baseball in the Nation's Capital Survived WWII and Changed the Game Forever," was published in paperback last May by Rowman & Littlefield Publishers. To reach him, please email IPSauthor@apus.edu. For more articles featuring insight from industry experts, subscribe to In Public Safety's bi-monthly newsletter.