Off-duty FF-medics save drowning 3-year-old
Coral Springs-Parkland Fire Department Lt. Kandice Oltz was on the beach with her wife, Oakland Park Firefighter-Paramedic Jen Oltz, when they noticed the little boy was in distress
---
By Rachel Engel
CORAL SPRINGS, Fla. — Two off-duty firefighter-paramedics helped save the life of a drowning child.
Coral Springs-Parkland Fire Department Lt. Kandice Oltz was with her wife, Oakland Park Firefighter-Paramedic Jennifer Oltz, on Dania Beach's Whiskey Creek on April 25, when they heard a father frantically pulling his lifeless toddler from the water, Coral Springs Talk reported.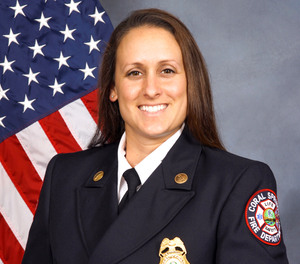 "The three-year-old was still wearing his floaties," an account of the rescue by Coral Springs city officials read. "Kandice was with her wife Jen, who communicated to the family in Spanish, letting them know she and Kandice were first responders."
The couple, along with an off-duty ER nurse at the scene, worked to revive the child.  
"Kandice pinched the boy's nose, blew one good breath into his mouth and saw the chest rise," the account read. "The ER nurse took over, providing breaths, while Kandice gave the tiny boy chest compressions."
Following CPR, the boy began to breathe and gag, prompting Kandice to turn him on his side, allowing him to purge the water from his body, before scooping him up and running to meet Hollywood Fire Rescue paramedics in the parking lot.
"Kandice exchanged numbers with family and paramedics on scene and has checked on the little boy making sure he had no long-term deficits," officials wrote about the incident. "After this occurred, Kandice and Jen then had to answer a LOT of questions from her young twins who had witnessed the entire incident. As stressful as this might have been for all of them, we are sure they are as proud of their mom as we are."