Colo. city donates old ambulance to Honduras
The Red, White & Blue Fire Protection District's old ambulance will allow citizens in Honduras to receive medical attention in a timely manner
---
By News Staff
BRECKENRIDGE, Colo. — A firefighter district is planning to donate its recently-replaced ambulance to Honduras as part of an aid agreement.
Summit Daily reported that the Red, White & Blue Fire Protection District is donating its old ambulance to Summit in Honduras, a local nonprofit that provides aid to the country. The ambulance will be used to provide medical transports, which encourages proper medical treatment in the area.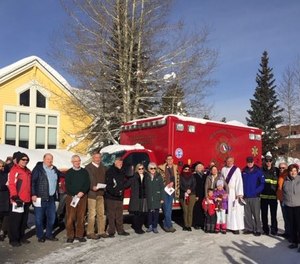 "The nearest hospital is about two hours away," Maggie Ducay, founding director of Summit in Honduras, said in an interview with Summit Daily. "When there was a need for someone to be transported, they would be put in the back of a pickup truck or the back of a car. This ambulance is a game-changer for everybody.
The fire district's new ambulance was purchased with a $100,000 grant that was contingent on the old ambulance being donated to charity.
In addition to the donated ambulance, other fire and EMS agencies in the area donated gently used gear and equipment.
"We received hard and soft goods from fire departments from here to the Roaring Fork Valley," Drew Hoehn, fire battalion chief with the fire district, said. "The ambulance isn't going down empty."