EMT learns to walk again after being paralyzed by rare condition
Austin Bird is undergoing therapy after being diagnosed with Guillain-Barre syndrome, an autoimmune disorder that left him paralyzed
---
By EMS1 Staff
DUBUQUE, Iowa — An EMT is learning how to function again after being diagnosed with a rare condition that left him paralyzed.
WQAD reported that EMT Austin Bird spent three months on a ventilator after going through increasing paralysis from Guillain-Barre syndrome, a rare autoimmune disorder that causes the nervous system to be attacked by the body.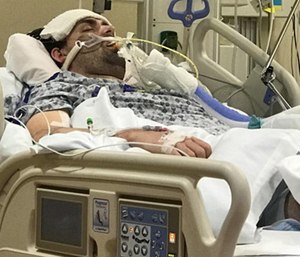 "Even now, I'm forgetting what it was like, because it was that horrific," Bird said.
After a year of challenges, Bird is now learning how to eat, dress and use a cellphone, and is walking short distances thanks to therapy.
"You have to be a fighter. He's fought, I've fought, and we'll do whatever we can until he's back up and walking," Bird's mom, Anna Adams, said.
Bird credited his EMS colleagues for their support in his recovery. He hopes to return to work by the end of the year with a desk job, and plans to attend paramedic school in the fall.